Mystery Party
This post may contain affiliate links. Read our full disclosure policy. 
A Mystery Party can be many things.
It can be for girls only, guys only, or co-ed.
It can be a murder mystery, with everyone playing a part, or it can be an event playing mystery games or going on a sort of treasure hunt.
These great teen party ideas also make for a fun slumber party!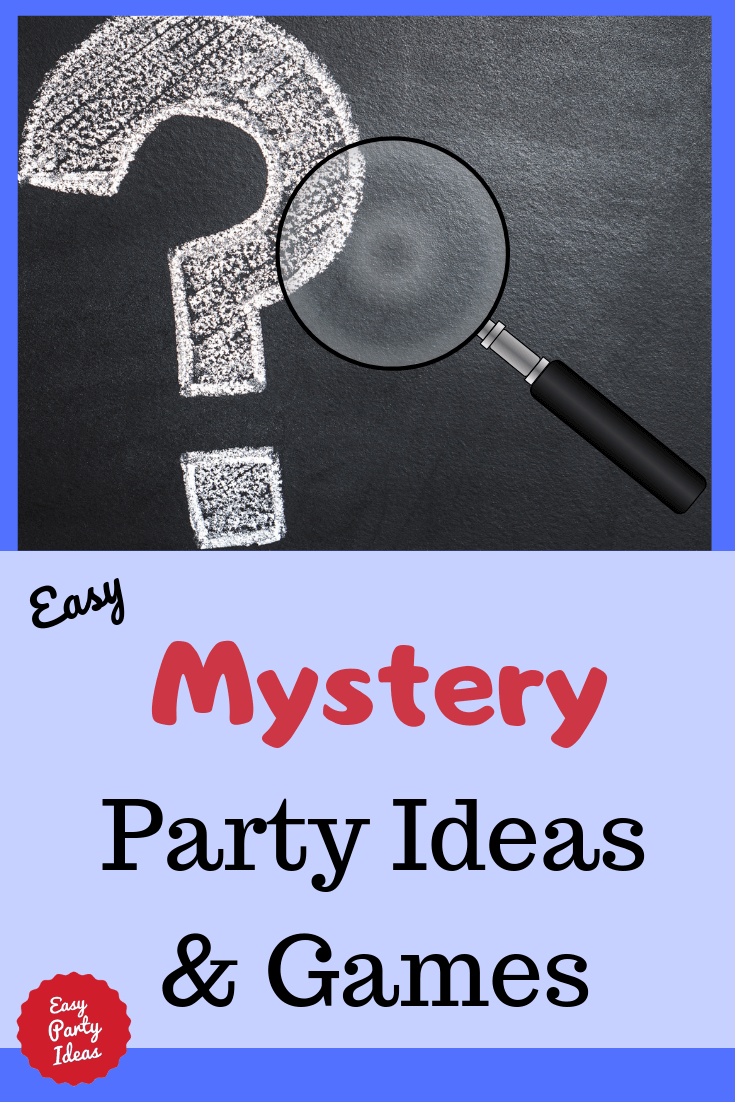 Ideas for a Mystery Party

How you will decorate, your invitations, and what you serve will depend on what type of mystery you are doing.
#1 Mystery Games from a kit

If you are planning to use a mystery game where everyone plans a part, you can download great teenage mystery party game plans from the SimpliFun Studios website! These packages will include ideas for decorations, ideas for scene setters as well as all the information you need. Guests will typically come in costume and play a character in the mystery.
There are also lots of boxed games you can purchase and play. These are great because everything is planned for you. More about Murder Mystery Party Games
---
#2 Parties with a Mystery Theme
If you want to have a party with a mystery theme, but not act out a mystery, there are lots of other ideas you could do.
Solve riddles, such as Q: I have my own mouse A: A computer


Make up a mystery themed word search puzzle


Name that Bar - a fun (and tasty) game. Select several different types of candy bars. Slice before the party and number them. Let everyone take a taste of each and try to guess what they are. Yummm!


Play the Who Am I? Game


Decorate the party area with cobwebs and other spooky stuff.


Have some magnifying glasses on hand in case anyone wants to look for clues!


Slumber Party Fun

Is your party a slumber party? Additional activities that you can add to a sleepover include:


Play fun party games like the board game "Clue"


Watch a mystery movie, such as Nancy Drew


Play the Sleeping Bag Hunt - You'll need objects assigned to each player (such as a magazine, a stuffed animal, a shoe). Have players leave the room while you hide one object inside each sleeping bag. When players return have them try to figure out which sleeping bag has their item. No peeking! (but OK to touch).


Play the Ticking Clock Game – You'll need an alarm clock. While the players are out of the room hide an alarm clock in one sleeping bag. Tell the players that at some point in the evening (unknown to them), the clock is set to go off . When the alarm rings, whoever can find the clock first wins!


---
#3 Mystery Hunt
Seeking missing treasure with a treasure hunt or a scavenger hunt is another fun way to celebrate a mystery!

This site is a participant in the Amazon Services LLC Associates Program, an affiliate advertising program designed to provide a means for sites to earn advertising fees by advertising and linking to amazon.com.

Let's

Connect

!

Where Next?