Hollywood Star Slumber Party
This post may contain affiliate links. Read our full disclosure policy. 
Everyone wants to be a star!
A Hollywood Star Slumber Party will make the host and the guests feel extra special!
Here are some games, decorations, invitations, and other ideas for a star-studded event!

This is one of the most popular and loved teen, tween, sweet 16 and birthday event themes out there so you can't go wrong with this theme. Included on this page are some affiliate links for Amazon and Shindigz, as well as links to other pages on this site.

---
Hollywood Party Invitations
Easy to make yourself!
Print details on a ½ sheets of card stock, cut into a star shape and decorate with glitter
Create an invitation like you would receive for an Oscar night
Create a fake movie ticket or poster for an upcoming movie starring YOU!
Want to purchase instead? There are lots of cute options available online. Shop thru an assortment of really cute Hollywood Invitations (link takes you to Amazon)
---
Hollywood Star Slumber Party Decorations
Use lots of Gold Stars in your decorations
Use Movie Popcorn Buckets to hold chips, dips, etc.
Have a Red Carpet Runner to walk on as they enter. If you can't have anything else, this is a big one! You can also use a disposable red table cloth or a carpet remnant.

Hollywood Clapboards can be used in lots of ways.
Hang up Movie Posters (visit your local movie theater - they may have some that they will give you for free!)
Use Film Reel Decorations on your table and all around the room.
Another great decoration - Hollywood Sidewalk Stars
Make sign that says "VIP ENTRANCE" on the front door.
Pick a bold color scheme, such as red, black, gold and silver. Use these for balloons and streamers, and even the stars!
Hang a curtain of Gold Foil Tinsel Fringe at a doorway for your friends to walk thru when they arrive. This is always a fund idea!
Hollywood Star
Slumber Party Activities
Remember that red carpet I was talking about? As everyone arrives take their pictures on the "red carpet." You can even have some screaming fans to try to get their autographs as they arrive and have a photographer (those papparazi are everywhere!) taking photos.
Have everyone come to the party dressed as a famous celebrity or movie character.
Let each guest decorate their own Hollywood star or pour plaster of Paris in square containers and let each guest make an imprint of one of their hands and add their signature.
Provide a pillowcase for each guest and autograph each other's with permanent markers.
Watch your favorite movies!

---
Hollywood Star Slumber Party Games
These games are tailored perfectly for a Hollywood Star Slumber Party!

Karaoke, Air Guitar or Lip Sync - all are lots of fun!


Truth is Stranger than Fiction– can you tell which tabloid stories are real?


Find the Leader– test your acting skills with this one!


Left Foot Autographs – Sit on the floor, barefoot, and try to sign you name with your left foot!


Makeup Artist - You'll need makeup: lipstick, loose powder and blush. Stay away from things that could injure an eye, such as eye shadow (unless applying with a cotton ball) and no mascara (too scary to try to do!). Divide players into teams. One player is the model, and their teammate is the make up artist. The makeup artist has 2 minutes to put makeup on their model. But must do it blindfolded! The other players who aren't taking their turn can give out directions on what to do – "higher, lower, over to the left," etc.!


Photo Fun - Divide players into teams, with each team using a digital camera. Give each team a list of photos to take. Some ideas are...the team pretending to sleep, of the team dancing, of the team doing yoga, etc. Whatever you can think of that will make a crazy photo! Make sure the different players take turns being the photographer so everyone gets a turn to be photographer and models!


Talent Show - Let everyone (who wants to) participate in a talent show! Be sure to video this one...


No Talent, Talent Show - Have a pretend talent show to see who has the least talent! Team up players so they can work together. Some ideas are telling (bad) jokes, reciting a (bad) poem, playing with a band (badly – maybe on kazoo's?), singing (badly) karaoke, magic tricks (badly done), dancing (bad), etc. for the worst. You'll want to video this one too...


Skits- Divide your guests into teams and hand them scripts of short scenes from favorite movies (print these out prior to the party so you'll have them ready). Give them a few minutes to practice and then have them perform their scene, OR give your teams an assortment of wacky props and costumes (hats, fairy wings, magic wands, swords, funny glasses, etc.) Have them make up their own skit! Afterwards, present awards, and make sure you video all of it!


Play some classic party games, like 20 Questions, Charades, Fast Charades or Who Am I?


If you are still looking for games...check out our giant list of more Slumber Party Games to go with your Hollywood Star Slumber Party.


---
Hollywood Star Slumber Party Cakes
For the true Hollywood star, nothing is better than A Star Cake! More info here.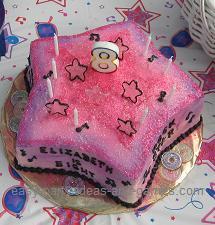 ---
Hollywood Star Slumber Party Favors
Some great favors for your sleepover would be:
Autograph Books

Anything "star" shaped


---
Your Great Ideas
Have you had a Hollywood Slumber Party? If so, tell us about it!

Ideas from our visitors:
This site is a participant in the Amazon Services LLC Associates Program, an affiliate advertising program designed to provide a means for sites to earn advertising fees by advertising and linking to amazon.com.

Let's

Connect

!

Top Sleepover Pages
Giant List of Slumber Party Games