Celebrity Twenty Questions
This post may contain affiliate links. Read our full disclosure policy.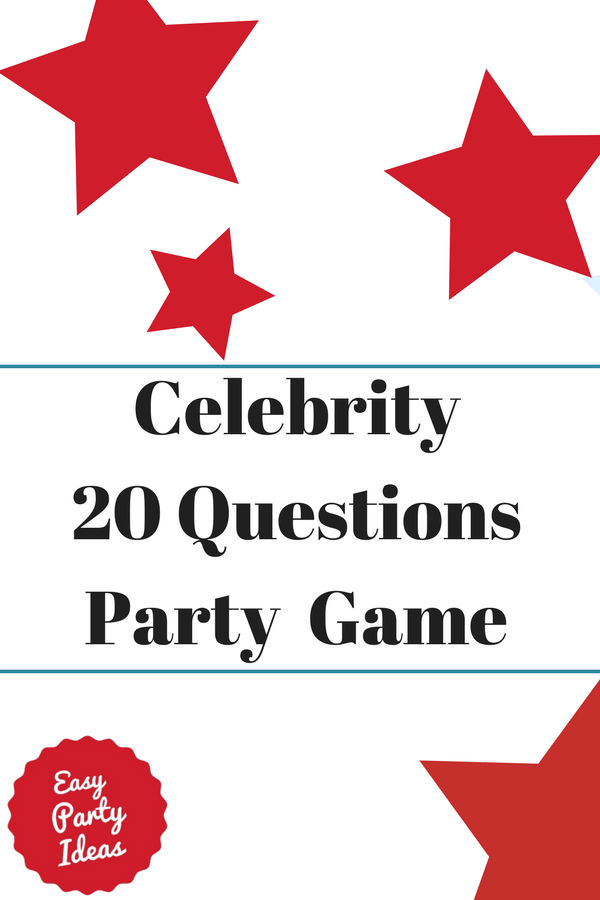 Celebrity Twenty Questions is a great party game that is easy, fun and thought provoking!
This game is fun to play at Oscar or Hollywood themed parties.
To Play:
The person starting the 20 Questions game will think of the name of a famous person. The other guests can ask up to 20 "yes" or "no" questions to try to figure out the name of the famous person.
Play continues until each person has had a turn to field twenty questions.
After everyone has had a turn thinking of the name of a famous person, whoever correctly guesses the most names is the winner.
Alteration:
Give the initials of the celebrity as a clue at the start of each round - this will make the game a bit easier.
Hints:
I think it can be a really good idea to set rules/limits on who your celebrities are at the beginning of the game. Otherwise you'll get the "I didn't know we could do (insert type of celebrity here) celebrities!" Save yourself some trouble and set some ground rules first.
Some ideas of "types" of celebrities could be:
Celebrity Twenty Questions at an Oscar Party
This could be really fun!
If you are playing this game at an Oscar Watching Party, one suggestion is to use characters or actors having to do with the films from that year, or perhaps do Oscar winners and nominees from the current and all previous years. There are plenty of celebrities there to choose from, and some will be very famous and others will be more obscure!
More Party Games that include Celebrities
Have everyone come dressed as a famous celebrity

Ask your guests to come to the party dressed as a famous celebrity or movie character and award prizes.

The timeless game of Charades! It has been around forever, and with good reason. It is easy to set up, easy to play and fun. You might want to try an alternate, easier version too - Fast Charades
Similar to 20 Questions, but with a twist is the game Who Am I?
OK, so the headlines about celebrities in the supermarket tabloids can be kind of crazy. Time to put them to the test with the Truth is Stranger than Fiction Game
This site is a participant in the Amazon Services LLC Associates Program, an affiliate advertising program designed to provide a means for sites to earn advertising fees by advertising and linking to amazon.com.

What is your favorite party game?
Do you have a great party game? Share it!
Let's

Connect

!

Top Game Pages on this Site