Bunco Score Sheet
This site contains affiliate links, meaning if you click on the link and make a purchase, I may receive a small commission (at no cost to you!) I only recommend products I've personally used or would love to use myself! Get the scoop here.
"IT WORKED! It is the best score sheet I have seen yet!"
You can use any sort of bunco score cards, as long as it helps you keep score. Some party stores even sell bunco score pads.
If you want to make a bunco score card yourself, here is an example of the bunco score cards that we use at our monthly neighborhood bunco game.

Instructions for using this free score sheets:
As you play, write the name of your partner in each square, and keep a tally of the combined points of you and your partner.
Why? If you lose track of whether you won or lost a game you can go back and ask your partner.
If you win the round, circle it and mark it at the bottom on the "Wins" line. If you lose the round, draw and X across it and mark it at the bottom on the "Losses" line. And make sure you record any buncos (rolling three of a kind of the number you are trying to roll) at the bottom.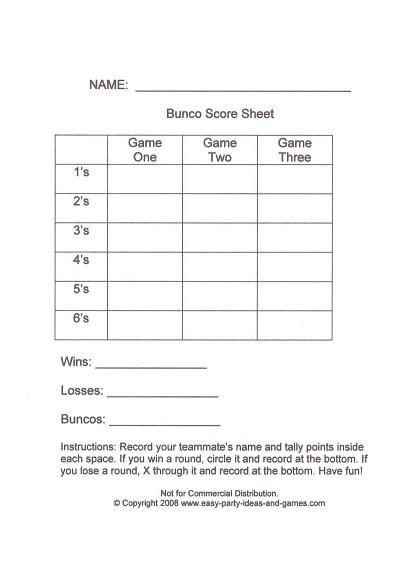 Keeping a master tally at the bottom of each bunco scorecard helps with distributing prizes at the end of the game!
With this scorecard, points aren't tallied at the end. All that matters is whether you won or lost. That is it!
Use the above as a guide when creating your bunco scorecards. For size, a 1/2 sheet of paper works great!
Don't want to make your own?

Click here to download a free printable copy of this bunco score sheet!

Note: Depending on your security settings, the above link may require a right click to open. If you'd rather, just copy and paste the following into your browser: https://www.easy-party-ideas-and-games.com/support-files/bunco-scoresheet.xml


Have fun!!



This site is a participant in the Amazon Services LLC Associates Program, an affiliate advertising program designed to provide a means for sites to earn advertising fees by advertising and linking to amazon.com.

Let's

Connect

!

Bunco Game Rules

Bunco Recipes

Bunco Ideas from our Friends (you!)

Add a free page about your bunco group!