Bunco Prizes
This post may contain affiliate links. Read our full disclosure policy.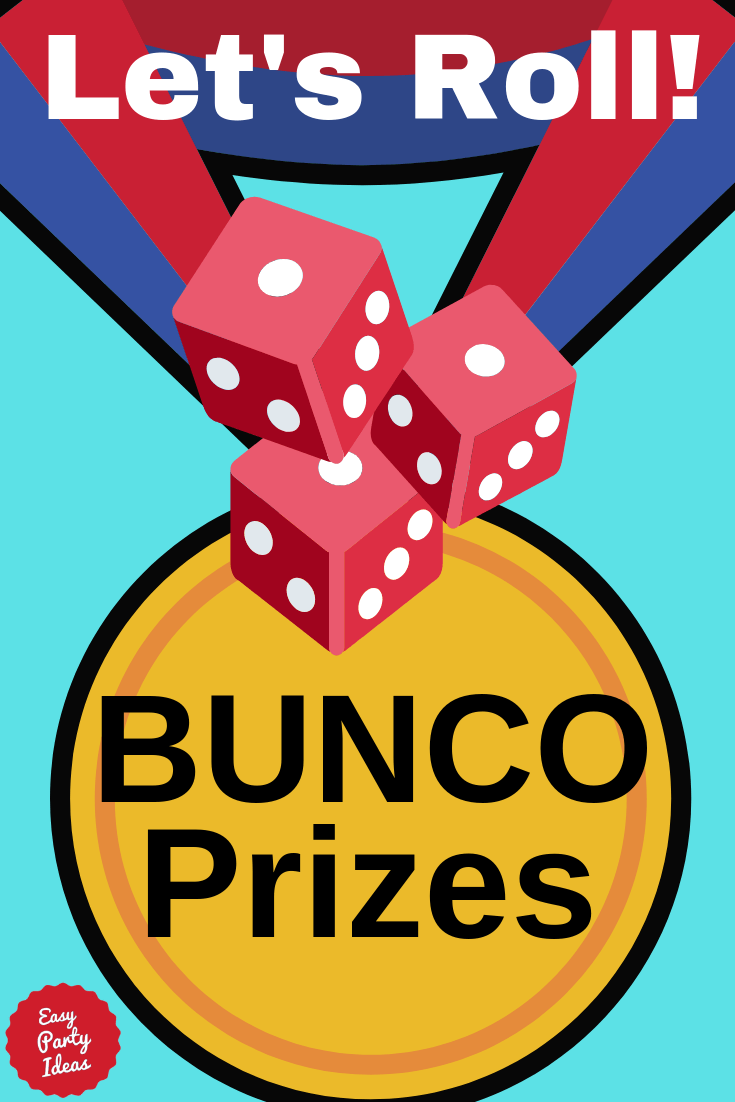 Bunco games mean bunco prizes!
A prize can be anything, and depends on what the group decides when they are organizing a bunco group.
As the game goes along, everyone will need to keep track of their status on a bunco score sheet. (Download our free bunco score sheet here)
A good score sheet will include a place for you to keep track of your total wins and losses.
---
Bunco Prize Winners
Common categories for prizes at a bunco game are:
Most wins (winning the most number of rounds)
Most losses (having lost the most number of rounds)
Most buncos (rolling 3 of a kind of the target number)
Last bunco (the last person to roll 3 of a kind of a target number, often called "traveling prize" because of the traveling item that is held by the latest person to roll a bunco)    Learn more about "Traveling"
Some groups determine than a person may only win one prize. How could someone be eligible for more than one prize? An example is a person who has just rolled the last bunco, and also has the most buncos. Should they be allowed to keep both prizes?
Some groups say yes, and others say no. If no, you'll need to determine which prize they will get. One option is for the winner to pick which category they win, and then let another player win the other category.
Groups should plan what to do if more than one person is eligible for prize. Suppose two people tie for most wins. What will you do? Many groups have a "roll off", with winner take all. Another option is to split the prize between the two players.
---
Money Bunco Prizes
Many groups collect an amount of money from each player at the beginning of the game and then distribute it to the winners at the end. Most groups that play for money prizes ask bunco players to contribute between $5 and $15 to the prize pot at each gunco dice game. Typically awards are given to players with the:

Most wins
Most buncos
Last bunco
Most loses
Most wins usually gets the biggest prize, with most loses getting the smaller prize.You can split the prizes anyway you like, but it is important to be consistent from month to month. You can also add additional prizes, such as a pity prize to those who don't win any money. One group of twelve players collects $10 at every game and awards $50 for most wins, $30 for most buncos, $20 for last bunco, and $12 for most losses, and $1 each to the remaining 8 players as a pity prize.
I was told about another group that has each player bring quarters to each bunco game. Before each round, each player will ante in with a quarter. At the end of the round, the winners at the table will take the quarters and split them. If someone rolls a bunco, they take all the quarters at their table. In this way players win prizes with each round, rather than at the end of the night. 
---
Bunco Prizes
Some groups collect money and distribute prizes at the end of the night.

Having a bunco party theme will lend itself to theme bunco prizes!
If you are having a western night, pick prizes with a western flair. A beach blanket bunco party? Then prizes that go along with a beach theme.
Other ideas for prizes for bunco games:

Gift cards
Wine
Pampering Products
Home Decor
Seasonal Items
You can also give out bunco themed gifts...
Popular bunco themed prizes available thru our Amazon affiliate links:

For some groups, the hostess collects money from each player and purchases the gifts. In other groups, each player brings a gift. These can be distributed at the end of the night as a white elephant gift exchange with winners getting to pick their bunco gifts first.If you can't find any bunco themed gifts you like, take a look at casino theme party gifts. You might find something with dice on it that would work. 

This site is a participant in the Amazon Services LLC Associates Program, an affiliate advertising program designed to provide a means for sites to earn advertising fees by advertising and linking to amazon.com.

Let's

Connect

!

Helpful Bunco Links