Thanksgiving Party Games
This post may contain affiliate links. Read our full disclosure policy. 
Thanksgiving party games!

They are fun to do during the Thanksgiving holiday when your home is full of family and friends

These Thanksgiving games will make Thanksgiving fun for all ages at your celebration (not just Thanksgiving for kids!).

Bean Toss - Players take turn trying to toss beans into a container.

Board Games - Break out your favorite board games, card games and puzzles.

Bobbing for Apples - Often associated with Halloween, bobbing for apples is fun anytime, and apples are plentiful this time of year. In a large bucket or container, float apples in water. Players try to grab an apple, using only their teeth!

Candy Corn Guess – Fill a jar with candy corn and let everyone guess how many pieces are inside. The player with the closest guess wins! You could do this with any fall object, such as acorns. 



Candy Corn Hunt – Before the game hide candy corn everywhere. Divide players into teams and select one player from each team to be the "rooster", (for Thanksgiving you could actually be a turkey, rather than a rooster…) while the other players are the "hens". The hens search for the candy corn, and when they find it must "cluck" to get the roosters to come pick up the corn. Only the roosters can pick up corn. The team with the rooster that has collected the most corn within two minutes wins!

Candy Corn Toss – You'll need: a timer, candy corn, and two bowls or buckets. Divide your guests into teams. Have each team stand behind a line drawn on the ground, and place a bowl for each team a short distance away. On "Go" each team tries to toss candy corn into the pumpkin. Whichever team gets the most candy in the pumpkin in two minutes wins! Another variation is to have a team member hold the pumpkin and try to catch as much candy corn as possible.

Charades – Play as a standard charades game, or play Fast Charades with Thanksgiving words.

Clothespin Drop – Players take turns trying to drop a clothespin into a jar.

Conversation Starter Game - Our list of conversation starters is a great way to get and keep the conversation rolling at the dinner table or during the day. 

Family Fued - Divide into teams for a round of Family Fued!

Family Photography – Give each child a camera and have them take photos of friends, family, and things they think are special. Make it more fun by giving them a list of things to take photos of, such as, take a picture of two people – one wearing red and one wearing blue.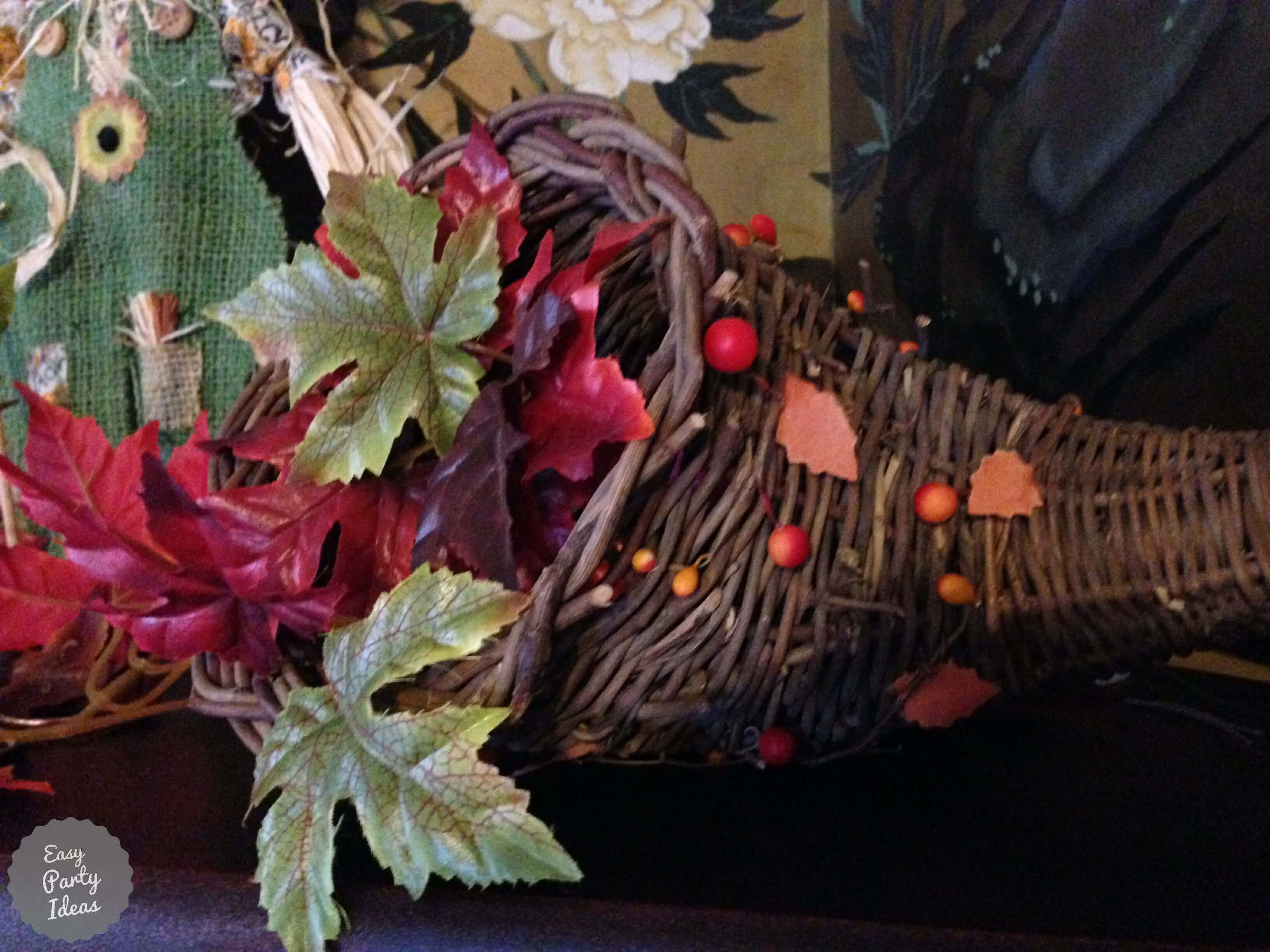 Floating Pumpkins – Beforehand blow up lots of orange balloons. Pass them out and let the children try to keep them in the air without touching the ground! Have some extra blown up in case some get popped right away.

Races and Relays – Classic sack races, three legged races and relay races are always fun.

Leaf Pile – Rake up a giant pile of leaves let the kids jump in and play in the leaves!

Leaf Treasure Hunt – Rake up a giant pile of leaves and hide small toys and objects in the pile. Let the kids jump in and see what they find.

Nature Hike – Not really part of the Thanksgiving party games list, but still fun to do...so we are including it! Send everyone outdoors to find interesting nature items – pinecones, berries, acorns, leaves, etc.

Pass the Apple – Just like Pass the Orange, but with an apple! Great Thanksgiving party games!

Pass the Pumpkin – Played just like Hot Potato but with a pumpkin!

Pinata - Select a pinata in a Thanksgiving or fall theme.

Pilgrim Relay – This is played just like the suitcase relay game but instead you'll need a supply of Pilgrim type clothes - a hat, shirt and pants, or a dress, apron and hat.

Pin the ….nose on the scarecrow, nose on the pumpkin, stem on the pumpkin, hat on the pilgrim…

Printable Games - Oh so easy... Printable Thanksgiving Party Games 
Pumpkin Bowling – Try to knock over some bowling pins (or plastic water bottles) by bowling with a pumpkin. Fun for fall or for Thanksgiving Party Games.

Pumpkin Golf – Hitting a golf ball into a hollowed out pumpkin makes for fun Thanksgiving party games! 


Acorn, Acorn, Who's Got the Acorn? - Played like Button, Button, Who's Got the Button... but using an acorn. You could also use a small candy pumpkin, or pumpkin or turkey shaped button. Anything seasonal adds this to the list of fun Thanksgiving party games!

Pumpkin Race - You'll need a pumpkin for each player. Players race on hands and knees while pushing pumpkin with their noses to the finish line.

Pumpkin Ring Toss – Toss a hula hoop or ring around a pumpkin. 



Pumpkin Seed Spitting Contest – Need we say more?

Scarecrow Relay – This is played just like the suitcase relay game but instead you'll need scarecrow clothes - a hat, shirt and pants or overalls.

Scavenger Hunt - Create a Thanksgiving themed scavenger hunt! Make a list of seasonal items and have everyone search!

Thanksgiving Bingo – One of those fun Thanksgiving party games that can be enjoyed by all ages. Create bingo cards using our Thanksgiving word list and play using beans, candy corn, pumpkin seeds, or candy pumpkins as markers.

Thanksgiving Jeopardy – Play Thanksgiving Jeopardy, with all Thanksgiving related questions and answers.

Thanksgiving Trivia – Who knows the most Thanksgiving Trivia?


Share your favorite
Thanksgiving Party Games and Thanksgiving Party Ideas!


Thanksgiving Twenty Questions - The person starting the game will think of the name of a famous person. The other guests can ask up to 20 "yes" or "no" questions to try to figure out the name of the famous person. Play continues until each person has had a turn to field twenty questions. The person who correctly guesses the most names is the winner.

Thanksgiving Who Am I? - Play the Who I Am? Game but with Thanksgiving words, characters and objects.

Thanksgiving Word Find – Give each player a piece of paper and pencil. Have them write the word "Thanksgiving" across the top, and then see how many words they can form from the letters in "Thanksgiving".

Turkey Egg Hunt – This works basically like searching for Easter eggs. Great for Thanksgiving party games or with any holiday)! While the children are distracted, have a helper hide the objects they'll need to find around your party site. If you hide them before the party they can sometimes be found and moved or played with, making them impossible to find when the time comes. Show the kids what the object that they will be looking for looks like and then have them go collecting! You might specify "one per kid", or "three per kid". That way one child won't take a bunch, leaving none for another child to find. Always hide a few extra for those that are hard to find.

Turkey Hunt - Cut small turkeys` out of paper and hide around the party area. Let players find a set number of turkeys per person. You can also play with candy pumpkins, candy corn, etc.

Turkey Says – Played just like Simon Says, but do what the "Turkey" says! Fun Thanksgiving Party Games!




This site is a participant in the Amazon Services LLC Associates Program, an affiliate advertising program designed to provide a means for sites to earn advertising fees by advertising and linking to amazon.com.

Let's

Connect

!

Go from Thanksgiving Party Games to These Idea Pages