Sealife Decorations
This site contains affiliate links, meaning if you click on the link and make a purchase, I may receive a small commission (at no cost to you!) I only recommend products I've personally used or would love to use myself! Get the scoop here.
These super-cute Under the Sea "Sealife" decorations are fun and colorful homemade party decorations that would be perfect for an under the sea party, mermaid party, margaritaville party or luau!
All of these backgrounds shown in the photos below were made with colored butcher/kraft paper, which happened to be provided. But not everyone has access to giant rolls of blue paper! So...
When you want to cover a large area and transform it into a background of color, the easiest and cheapest thing to do is to use large disposable plastic tablecloths. Then you can use colored paper to create the sea creatures, rocks, and plants for your underwater scene.
Imagine your guest's reaction when they arrive at the party and see the walls looking like this!  
Beautiful sea life!

Your guests will love finding Nemo at your party!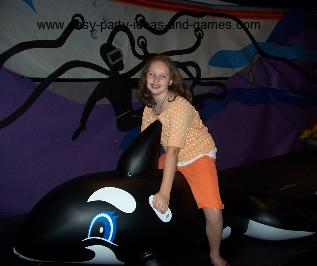 Add in some sealife inflatables, such as this Killer Whale, for fun!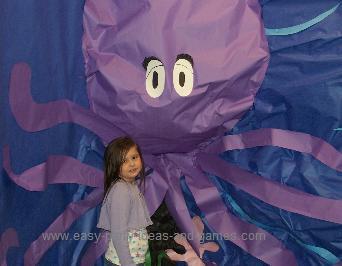 No under the sea scene is complete without an octopus!! This one was made in the corner...with his legs hanging out from his body.
Include a sea turtle cake or other ocean themed cake to your birthday party decorations.
These great decorations pictured here, along with tiki torches and volcano decorations (perfect for a luau!) were made by the talented folks at our annual VBS at our church.

---
When to Use Under the Sea Decorations
Don't limit these decoration ideas to an "under the sea" party theme! These homemade party decorations would be perfect to be used for any party that includes a tropical, beach or water theme. Some suggestions for parties where you could incorporate these ideas include:
This site is a participant in the Amazon Services LLC Associates Program, an affiliate advertising program designed to provide a means for sites to earn advertising fees by advertising and linking to amazon.com.

---
Share Your Decorations and Creations!
Thousands of visitors come to this website for inspiration. Share your images and decoration ideas here!
Let's

Connect

!

---
Where to Next?