Sealife Decorations
This post may contain affiliate links. Read our full disclosure policy. 
These super-cute "Under the Sea" Sealife Decorations are fun and colorful homemade party decorations that would be perfect for an under the sea party, mermaid party, Margaritaville party or luau!
All of these backgrounds shown in the photos below were made with colored butcher/kraft paper, which happened to be provided. But not everyone has access to giant rolls of blue paper! So...
When you want to cover a large area and transform it into a background of color, the easiest and cheapest thing to do is to use large disposable plastic tablecloths. Then you can use colored paper to create the sea creatures, rocks, and plants for your underwater scene.
Imagine your guest's reaction when they arrive at the party and see the walls looking like this!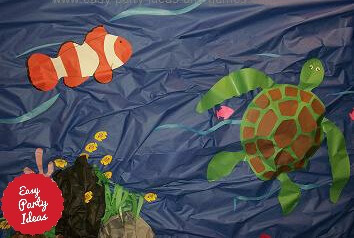 Your guests will love finding Nemo at your party! It is fun to mix in familiar characters.

You don't have to limit your decorations to sea creature either. Include things you might find in the water, such as a boat or a scuba diver too!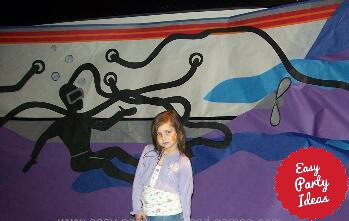 Around the room you can add some sealife inflatables, such as this Killer Whale, for fun! Everyone will want to climb on it and have a photo op.
---
Getting Really Creative with Sealife Decorations
No under the sea scene is complete without an octopus!! This one was made in the corner...with his legs hanging out from his body in the different directions. It is a perfect example of being willing to use the entire room creatively.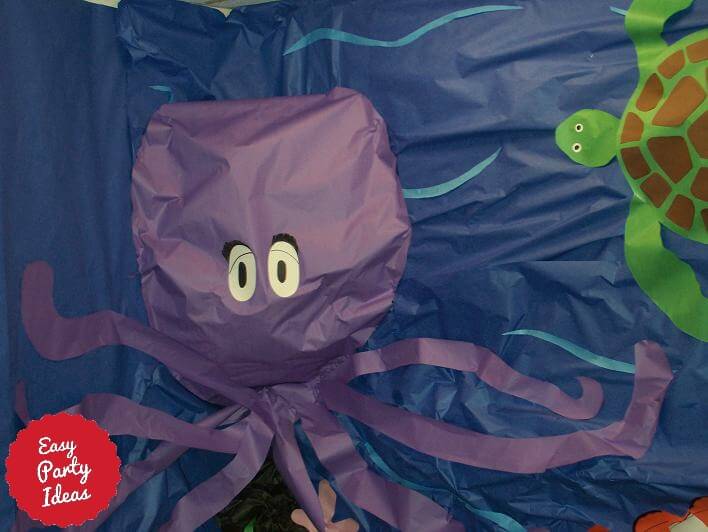 Another example of using the ENTIRE room is a photo of the ceiling below - what do you think? It takes a lot of time to prepare, but what a neat effect! It add to the magical fun of being under the sea!

 Obviously the items on this page are going to take some time to sketch out, cut out, and assemble and hang up. But I hope they will inspire you!

These great decorations pictured here, along with tiki torches and volcano decorations (perfect for a luau!) were made by the talented folks at our annual VBS at our church.

If you don't have that time available, the next best thing is to use
ocean theme scene setters like these
available at Amazon.com.
---
More Ocean Party Ideas