Sea Turtle Cake
This post may contain affiliate links. Read our full disclosure policy. 
Sometimes you see things and you just have to share. This sea turtle cake is a perfect example!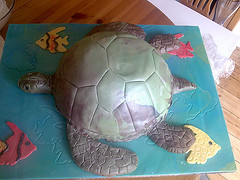 Photo by: http://www.flickr.com/photos/sweetangeldelights/ / CC BY 2.0
I was blown away when I first saw this cake. I think it is beautiful and I especially love it because if I was thinking about creating a cake for the ocean, or the beach, or to represent sea-life, I probably would never have thought of doing this!

It could be used for any ocean themed party, endangered species, beach party, or under the sea. Or perhaps just for the folks who love sea turtles!
More great ocean themed cakes:
Sea Turtle Party
Let's do something that is good for everyone, and fun too!
The Sea Turtle Conservancy in Gainesville, FL urges fans of sea turtles to host house parties to educate others and advocate for these fascinating creatures and their habitat conservation. Their website includes different party plans (including a tailgate and a Halloween party!) complete with games, food and crafts.
I particularly love the recipe and photo for the Sea Turtle Bread, and the Sea Turtle Quiz is fun too - you will truly learn a lot!
Take a moment to explore their site and see what fun you might learn!

To learn more about the Sea Turtle Conservancy, and to see their complete list of party ideas, decorations and games, visit their webpage of
Sea Turtle Conservancy Party Ideas
.
Other party ideas for your Sea Turtle Cake:

How to make a Sea Turtle Cake of your own
It looks like this cake was probably made using Sports Ball Pan Set.
The cake is covered in Fondant, and before covering, it is good to do a thin crumb cake layer of regular icing on the cake. This helps the fondant lay smoothly, otherwise any imperfections in the cake will show thru.
There are fondant molds and tools available to buy to get the shell and reptile patterns. If you like working with fondant, you'll probably acquire several different types over time.
When placing the fondant over the cake, trim it from the bottom after it is laying on the cake.
Keep in mind that fondant is very heavy, so make sure your cake board will support your cake.

This site is a participant in the Amazon Services LLC Associates Program, an affiliate advertising program designed to provide a means for sites to earn advertising fees by advertising and linking to amazon.com.

Let's

Connect

!

You're gonna love...