Mermaid Party Ideas
This post may contain affiliate links. Read our full disclosure policy. 
Having a Mermaid Party? Here are lots of great ideas!!
My daughter wanted a mermaid theme party one year, and it was the first party that we held after she started at a new school, so we wanted it to be really great. I think these ideas will help you plan the perfect party.
Let's start with invitations...

Mermaid Party Invitations
There are so many cute invitations on the market, and my favorite selection can be found at
Mermaid Party Decorations
Blue, Purple, Teal streamers and balloons 

Hang up fish shapes that you have cut out of construction paper (let the birthday child decorate in advance!)
Have access to a Bubble Machine? Hook it up during the party!
Cake Table: Beach, Ocean or Tropical items, such as pirate booty and coins, tropical fruit (pineapple, coconut, etc.), plastic fish – use your imagination!
Make sure you have some fun beachy music playing, perhaps the Beach Boys?
Make some great under the sea homemade party decorations to transform your party area!
Mermaid Party Fun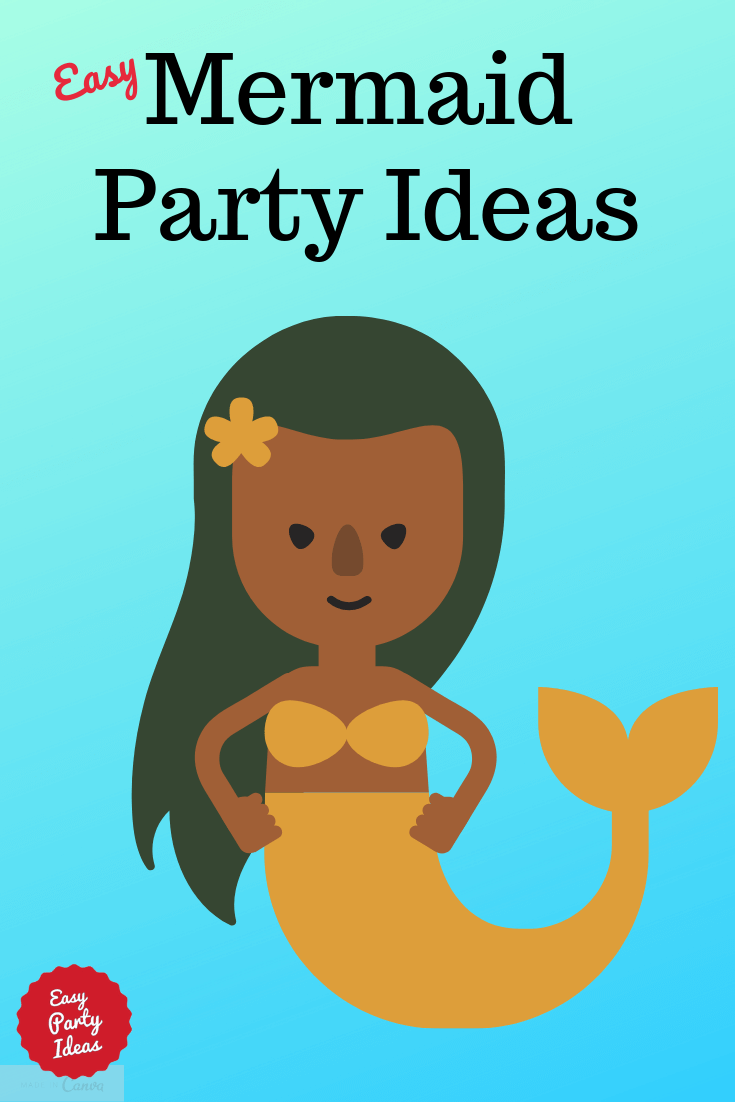 Decorate construction paper fish shapes
Set up a coloring station with Mermaid theme coloring pages
Make wave bottles – fill empty small water bottles half full of water. Add a drop of blue or green food coloring, some glitter, and sea life confetti. Fill remainder of bottle with cooking oil and hot glue on lid.
Sand Art – Give kids 5 – 7 pixie sticks in different colors and have them pour into empty baby food jars as sand art.
Dress-up in Costumes (see below)
Dig in a sandbox to find gold pirate coins or jewels
If having a lot of guests, during this time have stations set up for games such as "Pin the Flower in the Mermaid's Hair" (make it yourself: draw a mermaid on poster board, pin on flowers made out of construction paper) and a "Treasure Toss" (toss gold pirate coins into a fish bowl or treasure chest.)
How about some fun Dress-up Costumes? 
Provide costumes to wear during the party.
Girls: Flower for hair, lei necklace and bracelet, roll-on body glitter
Boys: Pirate hats and face paint to add a mustache, etc.
Favorite Mermaid Party Games
Dive Under the Sea - Gather everyone around a blue sheet and have plenty of bean bag fishes, stuffed animal sea creatures, etc. under the sheet. Have everyone stand to hold and shake the sheet (like a parachute) while adult says "Under the Sea, Under the Sea, Jack and Lucy, dive under the sea". Jack and Lucy go under the sheet, grab a sea creature, and then toss it onto the top of the sheet. It is fun to watch the fish get tossed around!


Sea Monster Game - An adult is the sea monster, and stands at one end of the yard. The kids are at the other end of the yard. The kids yell together, "Sea Monster, Sea Monster, are you hungry?" to which the sea monster will say "No, not really, come closer". The kids will all come a little closer and ask the question again. This happens over and over, until the sea monster finally answers "Yes"! At this point he tries to tag as many children as possible and they become sea monsters too. The game starts over, with the new sea monsters on one side of the yard and the other kids at the other side of the yard.


Musical Islands – You'll need a dice for this game. Designate six spaces in your party area as space #1, 2, 3, 4, 5, and 6 and place hula hoops at those three locations. The hoops are the islands. While music is playing, have the kids run around the party area. When the music stops, the kids should move to one of the six islands. Roll the dice, and the kids at the corresponding dice must do some action, such as 10 jumping jacks, running in place for 10 seconds, etc.


Sand Box Treasure hunt – If you have a sand box available, hide pirate coins and plastic jewels and let the kids hunt for them. For example, at a Princess party, you could hide plastic jewels. If you have a large number of children let them take turns, just a few at a time, or set up this game as a "station" to be done when other "stations" are being played.


Since it is a mermaid party, and mermaids live in the water, you may want to use some water games or pool games at your party. Click here for more Mermaid Party Games
Mermaid Birthday Cake Ideas

Make a rectangular sheet cake, cover with blue icing on the top for water. In one corner, make a "mound" or "hill" out of cake, frost in chocolate to look like a rock, and stick an inexpensive Barbie type doll with flowing red hair into this. Draw a mermaid tail on the "rock" with green icing.
Make an ocean cake
Mermaid Party Favor Ideas
Small bag of plastic jewels
This site is a participant in the Amazon Services LLC Associates Program, an affiliate advertising program designed to provide a means for sites to earn advertising fees by advertising and linking to amazon.com.

Kid Party Ideas
Do you have a great kid party idea or game?

Share your ideas and photos here, and they will be added to this site to help other moms & dads everywhere!

You can leave comments and questions here too!
Let's

Connect

!

Other Top Girl Party Ideas