Easy Luau Decorations
This post may contain affiliate links. Read our full disclosure policy. 
A great luau party demands great luau decorations!
It is easy to make homemade party decorations for a luau or Hawaiian party.
The following ideas are not limited to a luau, but could even be used for any tropical theme, such as for Margaritaville party decorations.
Tiki Luau Decorations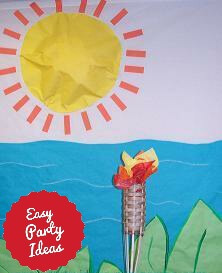 This great tiki torch requires no fire! Use orange, yellow and red tissue paper instead.
Here is a close-up view of the "flameless" tiki torch.
---
Make a Homemade Volcano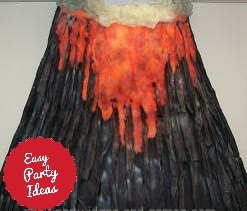 What a great decoration, huh? This was made by stacking cardboard boxes for the shape, and then covering them with strips of heavy paper painted black. Add some cotton batting (painted red/orange) for a glowing fire effect!

Detailed instructions for making a volcano:
Decorations like the volcano above make a lot of use of kraft paper, the kind you get on rolls. There are also some other options, depending on your budget and what materials you have available to work with. 

This volcano was made by stacking a bunch of cardboard boxes up against the wall as a "base". I would suggest that you tape these together to keep them from falling over.

Next, to help create the form cover the boxes with kraft paper. Kraft paper is great because it has a little more weight to it and drapes over the boxes well. But if you don't have a supply of kraft paper you could try a fabric sheet. I often use disposable plastic party tablecloths for creating decorations. If you could find them in brown or black, that could be another option for covering the boxes to create the volcano. 

If you use a brown/black plastic tablecloth or paper, depending on how it looks after you have draped it over the boxes, you could leave it "as is."
This would cut down on construction time over covering with strips of paper (as in the photo above.)
The volcano in the photo is decorated with kraft paper that was cut into long strips and then painted a brownish black. If you don't have kraft
paper, probably the most inexpensive thing to use would be brown paper grocery sacks. Cut the sack open (cut off the bottom) and you have a large rectangle. Then, cut the bag into a "fringe" so the strips are still all attached together on one side. This way each bag makes a "section of strips" and will make it alot easier to tape onto your volcano structure rather than having to tape each strip individually. This adds a lot of texture to the volcano. 
 
For assembly, you can use a roll of wide clear packing tape for everything. The first row of strips should be the bottom row, then as you do the next row, just overlap it on top of the tape. That way you'll never see the tape, and at the top you'll put the lava and smoke. 

For the lava and smoke you can use cotton batting. The lava can be created by spreading out the batting and painting it with red/orange spray paint in advance, then "shaping" once it is put on top of the volcano. The smoke goes on top. 

These great decorations along with really cool homemade ocean and sealife decorations were created for our church's annual VBS. Great job guys!

---
This site is a participant in the Amazon Services LLC Associates Program, an affiliate advertising program designed to provide a means for sites to earn advertising fees by advertising and linking to amazon.com.

From site visitors:
I always think the very best ideas come from visitors to this site. Tiffani took the volcano idea listed above, and created this great version: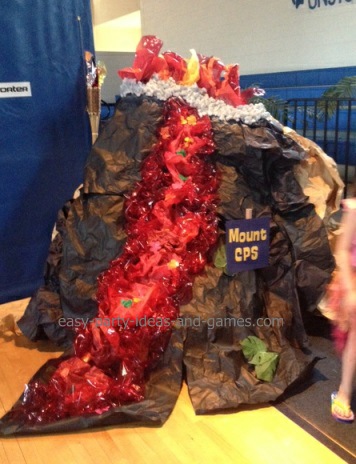 There is even a tiki torch in the photo! Thanks so much for sharing your luau decorations Tiffani, they turned out great!

Share Your Decorations and Creations!
Thousands of visitors come to this website for inspiration. Share your images and decoration ideas here!
Let's

Connect

!

When to use these Homemade Party Decorations
Use these luau party decorations with the following party ideas:

Hawaiian Luau
Luau for Teens
Hawaiian Slumber Party
Margaritaville Party
Pool Parties
Other Great Luau Homemade Decorations
Add a Volcano Cake as part of your decorations.