Beach Cake Ideas

This post may contain affiliate links. Read our full disclosure policy. 
This beach cute cake could be used for a beach party, or for a pool party.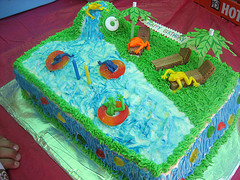 Photo by: http://www.flickr.com/photos/tomeppy/ / CC BY 2.0
Notice that everyone around the water is a frog! So, a great example of what you could do for a frog party too. I have a friend who loves frogs, and she had a frog themed party once...so this would have been a fun option for her as a frog cake!
You also don't have to wait to serve a fun cake like this at a birthday party. You could serve it anytime you are having fun around the pool and would like a pool cake!
Another fun idea for a cake would be to ice the cake in the color of sand and place (washed) shells on top, or cover the cake with crushed graham crackers to actually look like sand.
Beach Cake Decorations
One great source for decorations to go on a cake is your kid's toy box. Maybe there are deck chairs in the Polly Pocket or Barbie house you could borrow...
If not, there are available for purchase lots of cute beach theme cake supplies.
Show Off Your Cake!
Show us your great cake and tell us how you did it!
This site is a participant in the Amazon Services LLC Associates Program, an affiliate advertising program designed to provide a means for sites to earn advertising fees by advertising and linking to amazon.com.

Let's

Connect

!

Best Party Games