Perfect Pirate Cake Ideas

This post may contain affiliate links. Read our full disclosure policy. 
Ahoy! These fun pirate cake designs are sure to please the pickiest pirate!
What is especially fun is that there are so many different options of how you could go with a pirate theme cake!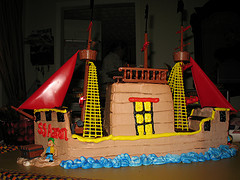 Photo by: http://www.flickr.com/photos/emeryjl/ / CC BY 2.0

A cake any pirate fan would love to have! Very impressive!!
I love 3D cakes too. They have a real "wow" factor when you bring them out for all the guests to see!
Pirate Ship Cake Pans

Another way to make a pirate ship cake for a pirate party is to easily use a <a rel="nofollow" target="_blank" https://amzn.to/2IcO5tN">Pirate Shaped Cake Pan</a> (Affiliate Link.)

Pirate Cakes aren't just for a Pirate Party...
There are lots of times to use a Pirate Cake...
A Pirates of the Caribbean watching party
Have you heard of this holiday? It's Talk Like a Pirate Day!

A Treasure Island Party

A Peter Pan Party

A Mermaids vs Pirates Party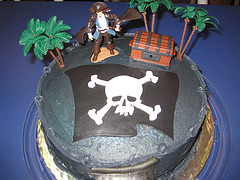 Photo by http://www.flickr.com/photos/madaise/ / CC BY 2.0

This cake would be simple to make - just ice the cake of your choice and put pirate theme figures on top! Love those! On this cake I love too that they made it black - makes it all the more sinister...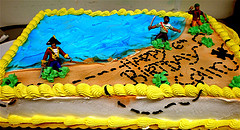 Photo by: http://www.flickr.com/photos/kcuisine/ / CC BY 2.0
You can find lots of items to go on top of the cakes, and you might even have some toys of your own to use!
Other options for a Pirate Party cake
If you are having a Pirate Party, don't just limit yourself to cakes that are all about Pirates figures and the Jolly Roger flag.
You can also have a cake shaped like a treasure chest cake or an ocean cake.
Fondant Pirate Cakes
Don't forget about Fondant! It is a fun material to work with, and cakes come out beautifully! You'll want to allow extra time to decorate your cake. Rolling and cutting out shapes, and sometimes even creating textures...that all takes time.
You can create just about anything out of fondant, including a cute pirate. A Jolly Roger flag would also lend itself well to being created out of fondant.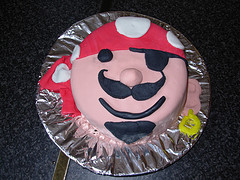 Photo by: http://www.flickr.com/photos/andrew_mc_d/ / CC BY 2.0

Pirate Party Game
A fun kids party game for your pirate crew is to play a game I call Cannon Ball! I have actually used this at a lot of parties, and the name just changes from party to party, but the kids always seem to love it!

You'll need a bunch of black balloons to play. Blow them up before the party, and have twice as many balloons as you have children. The reason is because sometimes balloons pop prematurely, and that is never fun! 
When it is time to play, simply toss a "cannon ball" (black balloon) to each pirate, and tell them that they can't hold it, but it cannot hit the ground. They have to keep hitting it in the air to keep it afloat. You can even have a target place where they are trying to get the balloon to go, such as across the backyard, so that they are racing to try to get it there. There isn't a clear winner here, just when it looks like they've had enough you can collect the balloons, let them pop them, or do whatever you like.

Another fun option, for older kids, is to tie the balloon to a string, and then tie the other end of the string around their ankle. Pirates should then chase each other, trying to pop everyone else's balloons, all while trying to keep their own balloon from being popped. The last one who has an unpopped balloon is the winner!

Show Off Your Cake!
Show us your great cake and tell us how you did it!
This site is a participant in the Amazon Services LLC Associates Program, an affiliate advertising program designed to provide a means for sites to earn advertising fees by advertising and linking to amazon.com.

Let's

Connect

!

Plan your Pirate Party