Luau Flower Decorations
This post may contain affiliate links. Read our full disclosure policy. 
Wanted: Luau Flower Decorations
Solution: Add some beautiful, large, hibiscus paper flowers around your doorways!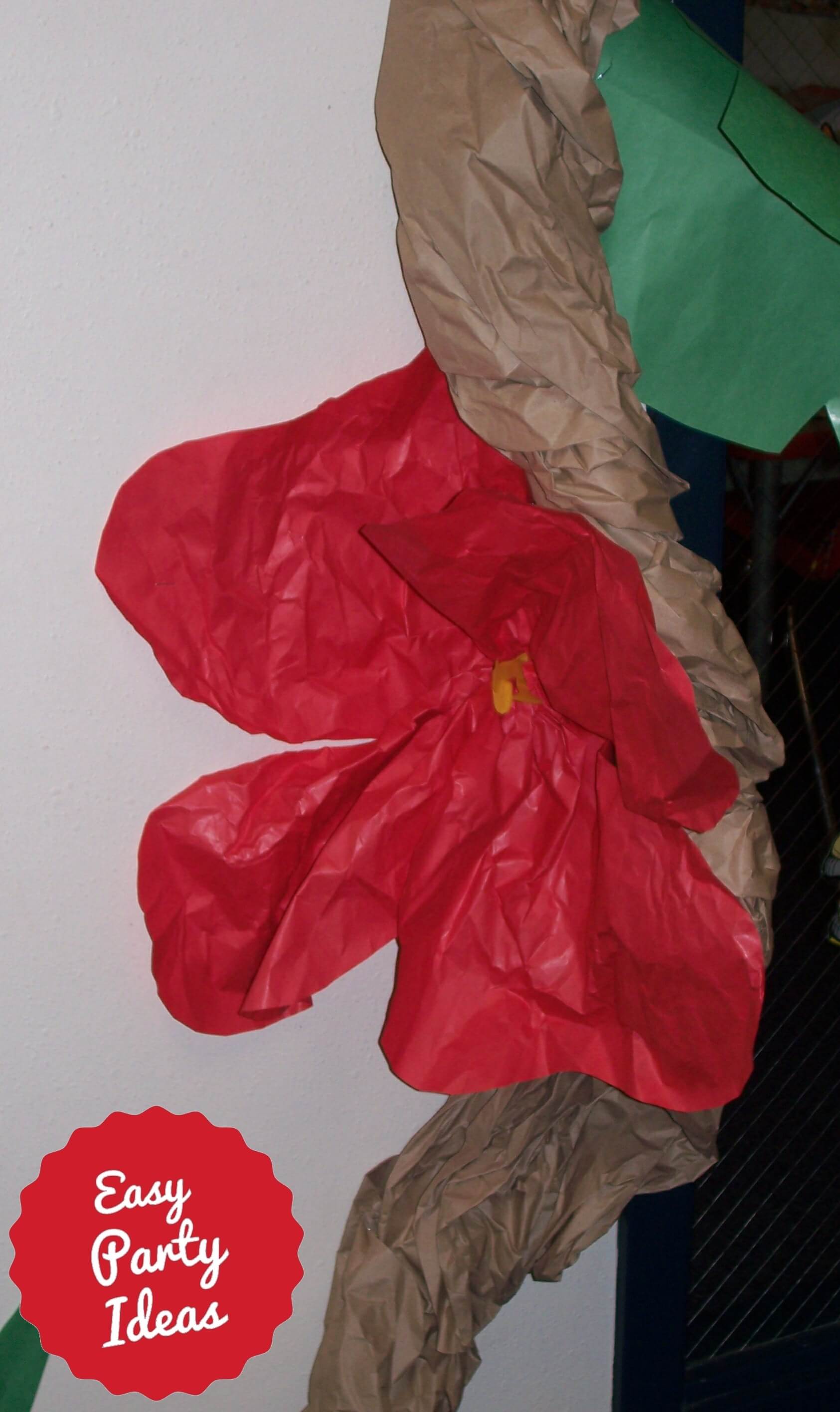 This gorgeous tropical hibiscus flower decoration was made with twisted brown paper for the stems and red and green paper for the petals and leaves. The shape was created by twisting and stapling.

The type of paper used in the photo came from rolls of colored butcher paper (kraft paper) which can often be found at teacher or art supply stores. If you plan a lot of parties, it is great to have rolls in several colors to use to make lots of different party decorations for future events. This is a great way to change the entire feel of a room and add lots of color. It makes a big impact and a big statement. See my page of "under the sea" sealife decorations to get the full effect of what you can do with this material!

Unfortunately, those rolls of paper can be expensive so you'll want to determine if you want to invest in them (and use left over materials for future parties) or select an alternate material. One alternative would be to use large sheets of tissue paper for the petals and leaves. You can also save brown paper bags to make vines.

For another inexpensive party decoration idea, the stems could be twisted sheets of disposable plastic tablecloths.
Those plastic tablecloths are terrific. You can often find them at the $1 store, and they add a lot of decorating possibilities for a small amount of money! I love them and make use of them often. They are available in lots of colors. Plus, at the end of the party you can fold them up for easy storage if you are planning to reuse them.
These are fun and colorful homemade party decorations that would be perfect for any tropical party, such as a margaritaville party or luau!

Use these party decorations together with our luau decoration ideas (ideas include tiki torches and even a homemade VOLCANO for a colorful party!) Placing the colorful hibiscus flowers like the one made above all around your party space will really add a lot of visual "wow" to your party.

Parties for these Luau Flower Decorations
Visit these party ideas for occasion when you can use these big, bold, beautiful flower decorations!
Share Your Decorations and Creations!
Thousands of visitors come to this website for inspiration. Share your images and decoration ideas here!
What Other Visitors Have Said
Click below to see contributions from other visitors to this page...

Paper flower Decorations

Use three different colors of tissue paper folded together(the same way you would fold a fan), cut points at each end, use pipe cleaners to tie around …
This site is a participant in the Amazon Services LLC Associates Program, an affiliate advertising program designed to provide a means for sites to earn advertising fees by advertising and linking to amazon.com.

Let's

Connect

!

Links to Shop for Kraft Paper & Supplies