Volcano Cake
This site contains affiliate links to products I recommend, many of which I use and love. If you click on a link and make a purchase, I may receive a small commission at no additional cost to you. This helps keep the info on this site free of charge! Get the scoop here.
Perfect for a luau party, a volcano cake!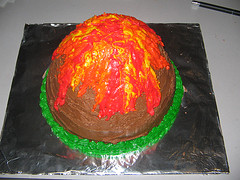 Photo by: http://www.flickr.com/photos/sleepingcatbeads/ / CC BY 2.0

If you are planning and around the world party this cake could represent hawaii or any of the islands.
You could even use it for a Gilligan's island party!
I also think this cake lends itself to a dinosaur party as well.
Limitless possibilities!
If using this cake, make sure you include homemade party decorations like making a volcano party decoration!

Show Off Your Cake!
Show us your great cake and tell us how you did it!
This site is a participant in the Amazon Services LLC Associates Program, an affiliate advertising program designed to provide a means for sites to earn advertising fees by advertising and linking to amazon.com.

Let's

Connect

!

Plan Your Party