School Halloween Party Guide
As an Amazon Associate I earn from qualifying purchases. Other links on this site may lead to other companies that I'm associated with.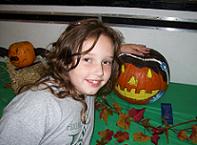 If you are planning a School Halloween Party, you have come to the right place.
You can use several of our Halloween games for school parties, whether you are planning an elementary school Halloween party or your Halloween school parties are part of a school carnival.
Use our ideas, and if you have something special to tell us about, please share your Halloween school party ideas with us in the space below!


Quiet Halloween Games for School Classrooms
Sometimes you are looking to keep the kids occupied, and need something with a Halloween theme...
There are some perfect Halloween games for school classrooms available.
These are for the most part easy, quiet and busy-work activities that can be done at their desks.

VISIT THIS PAGE for details on these games: Halloween games for school classrooms
---
Physical Games for a Party in the Classroom
When planning a party in the classroom, Halloween party coordinators will want to keep everything orderly so things don't get out of hand! Run your ideas by the teacher first, in case she has any other ideas or doesn't want you to include one of the activities.

Select Halloween games from our Kids Halloween Party Games Idea List that could be done in the classroom.
VISIT THIS PAGE for details on these games: Kids Halloween Party Games Idea List

Apple Race
Balloon Pop
Bean Bag Toss
Bobbing for Apples
Bobbing for Worms
The Ghost Catcher
Ghost Hunt
Halloween Charades
Halloween Telephone
Halloween Who Am I?
Mr. Hal O'Ween's Body Party
Mummy Wrapping Game
Pass the Apple
Pass the Pumpkin
Pinata
Pin the….
Pumpkin Pumpkin, Who's Got the Pumpkin?
Skeleton Puzzle Race
Spider Web
Spooky Walk
Tell a Spooky Story
Treasure Hunt
Truth or Dare
Witches' Cauldron

Halloween Party Games Pack: over 50 printables for all the family! Word games, group games, trivia and much more!
---
Halloween School Carnival Ideas
Now, if you are looking for Halloween party planning ideas for a Halloween school carnival, I'll tell you about ours.

Some of the favorite things at our school carnival are a:


Bouncy House
Rock Climbing Wall
Silly String fight area
Tattoo Station
Cake Walk (see "Spooky Walk" below)
Photo booths
Hair Spray station – where your hair can get sprayed with purple, blue, yellow (any color you can imagine) hair spray
Bake sale booth
And many more!


---
School Carnival Booth Ideas
If you are looking for booth ideas, here are some items from our Kids Halloween Party Games Idea List that could be done at a school carnival:

VISIT PAGE: Kids Halloween Party Games Idea List
Balloon Pop
Bean Bag Toss
Bobbing for Apples
Bobbing for Worms
Candy Corn Guess
Dr. Frankenstein
Ghost Bingo
Ghost Hunt
Halloween Musical Corners
Mr. Hal O'Ween's Body Parts
Pumpkin Bowling
Pumpkin Golf
Pumpkin Ring Toss
Spooky Walk
Witches' Cauldron


Have A Great Halloween Idea?
Do you have a great idea for celebrating Halloween? Share it!
This site is a participant in the Amazon Services LLC Associates Program, an affiliate advertising program designed to provide a means for sites to earn advertising fees by advertising and linking to amazon.com.

Let's

Connect

!

Don't miss these other great pages:
Halloween Party Supplies, Invitations and Favors