Halloween Decorations
As an Amazon Associate I earn from qualifying purchases. Other links on this site may lead to other companies that I'm associated with.
Halloween Decorations are an important part of your Halloween party planning. Whether Halloween party themes are scary or not, Halloween party decorations are an area where you can have lots of fun!

First, you'll want to keep in mind who will be coming to the party when you are planning your decorations.
For kids, it is best to stay away from the gory, scary stuff. There may be one in the bunch who doesn't want to enter, even knowing it is party, because it is too creepy.
There are lots of ways to make your decorations for Halloween fun and enjoyable to everyone.
Here are some favorite Halloween party decorating ideas:
Easy Halloween Decorations
Cover your

Halloween party food

table with a black, orange or purple tablecloth, and cover with plastic spiders, worms, and cobwebs.
Serve Halloween party food or drinks from beakers, or set up beakers and test tubes on the party food table for that mad scientist effect.
A few days before the party, peel and carve apples into heads. Let them air dry and they will turn into shrunken heads!
Use orange and black streamers and balloons to add a festive touch to your Halloween party decorations.
Place cobwebs and spiders all around your party area. Bags of "cobwebs" are inexpensive at most party stores.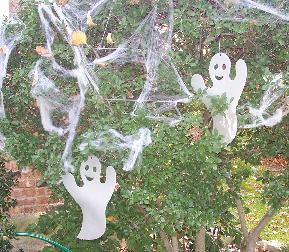 Create a graveyard in your yard to greet guests. Make tombstones by painting thick pieces of cardboard, thin sheets of plywood or even covered cereal boxes. You can also paint large pieces of styrofoam and anchor them in the ground with narrow dowels. An extra special touch to your halloween decorations would be a picket or iron fence running around the "graves."
Use haybales, mums and pumpkins in your party landscape.

Hang bats from the ceiling or trees.
Jack-o-lanterns! You can use candles or battery operated candles to light.
Post signs that say "Beware"!
If having your party indoors, cover your furniture with white sheets. Gives it that spooky haunted house effect.
Orange, black, purple and white lights are great for Halloween. Think of it is an early start to Christmas decorating (that is if you use multiple colors at Christmas!) Halloween party lights can really add a great touch.
Don't forget that you can use black lights. Using these light bulbs will make everything that is white and neon glow!
If you have any candelabra, now is the time to put it to use! (if kids are present, best to skip the candles so that a costume doesn't get too close to the flame, although flameless candles are always an option).
Centerpieces can be made from dead flowers. A couple of weeks before a party, save a bouquet of roses and let them dry up, or check with your florist for old flowers that they will be throwing out anyway. You could also spray paint silk flowers black.
Add some twisted, gnarled tree branches to your party decorations. Even better if you add a black raven sitting on the branches.
Fill buckets or tubs halfway with warm water and add dry ice so that the water covers the ice. Remember that dry ice should not be touched. If there are children at the party make sure that dry ice is out of reach or use a fog machine.
Make glowing ghosts by inserting a glowing glow stick inside white balloons before inflating. Cover each balloon with a small white sheet, white trash bag or white tulle and hang or place around the party area. If having the party outdoors, put these in the trees!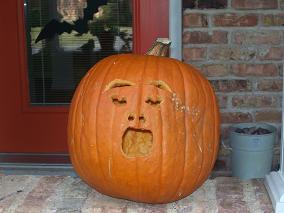 Play Halloween party music. When they say music is the international language they aren't kidding! Nothing says "spooky" or "party" like the music you play.
After October 31st, find a good place to store all your Halloween party props and Halloween decorations so you can use them again and again!
Some items, like hay bales, scarecrows, and fall mums, aren't just for Halloween themed parties. These Halloween decorations can be left up as part of your Thanksgiving decorations.
Have fun with your Halloween party decorating!!
Have A Great Halloween Idea?
Do you have a great idea for celebrating Halloween? Share it!
This site is a participant in the Amazon Services LLC Associates Program, an affiliate advertising program designed to provide a means for sites to earn advertising fees by advertising and linking to amazon.com.

Let's

Connect

!

Best Spooky Fun...