American Girl Party Ideas
This post may contain affiliate links. Read our full disclosure policy. 
An American Girl Party! Those few words can create such excitment!
I've been fortunate to get to take part in several different party themes involving the very popular American Girl dolls.
One was even at the American Girl store!
At this party, the girls were treated to a party room where they were led in playing games with their American Girl dolls (everyone brought their own or they were furnished with one) and then there was cake! The girls all LOVED it!!
If you want to create your own party at home, here are some other ideas for you to use...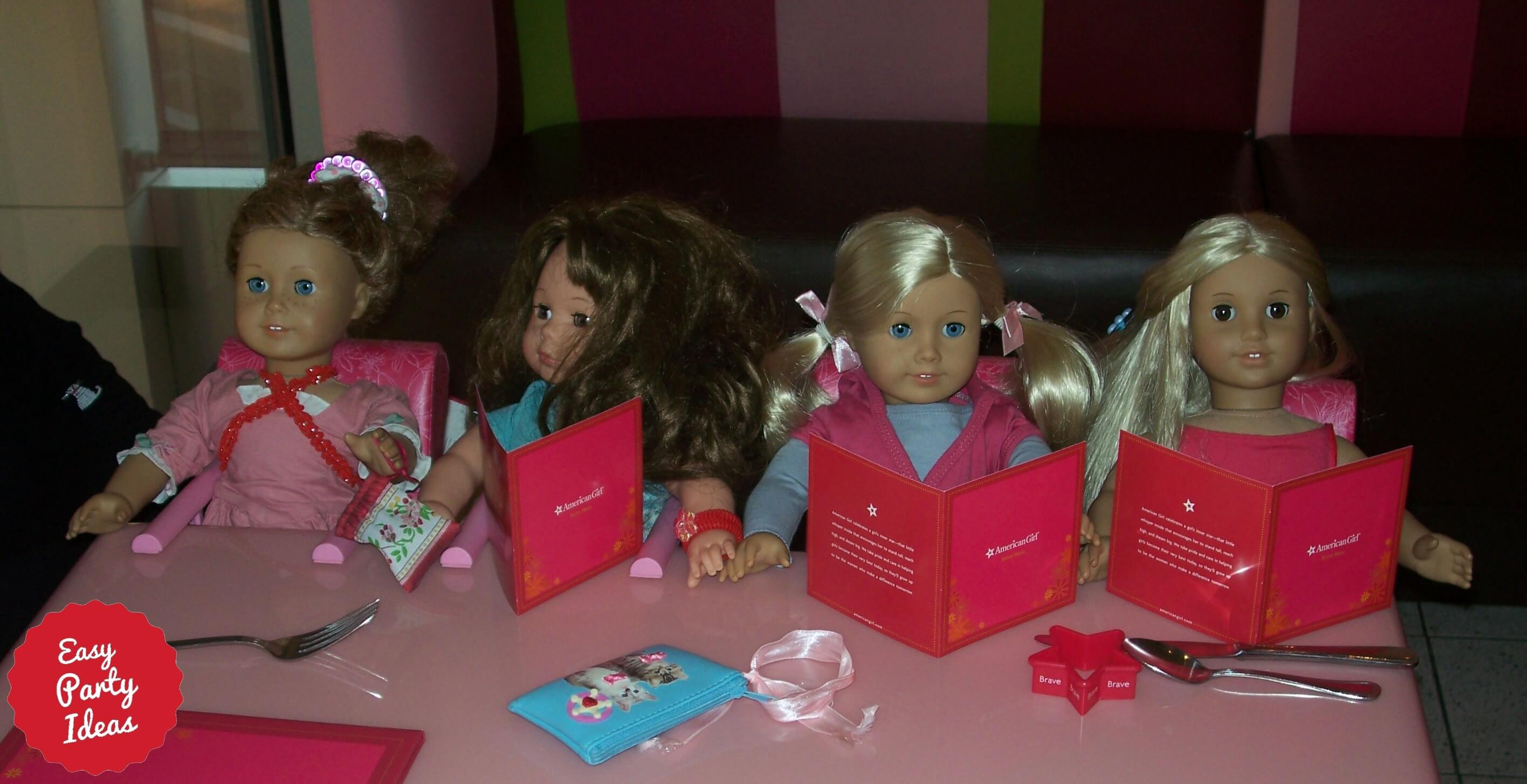 How to Have an American Girl Party at Home
One really cute doll party we went to had the girls doing different activities in stations. At one, the girls decorated a miniature picnic basket for the dolls to use. There were foam stickers, ribbons, etc.
There was also a doll "makeover" station, where some teenagers who were hired for the afternoon came and did new hairstyles on each of the dolls.
There was also a game of American Girl doll bingo going on at a different station.
For cake, there were little miniature cakes for each doll that were actually a wedding favor cake candle. There were really special and part of the party favor.

Here is the cake we ate: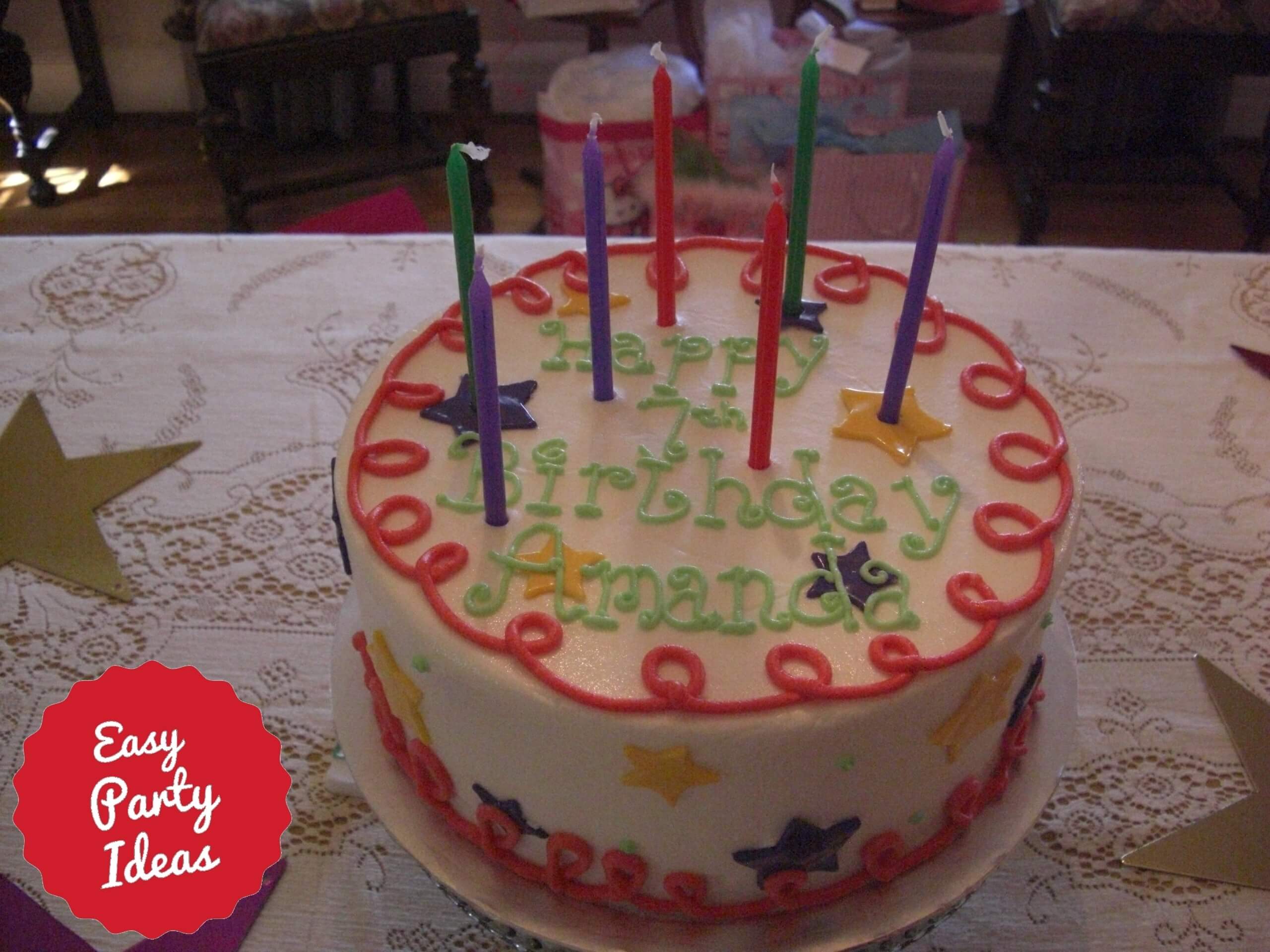 Along the lines of the American Girl theme, you could also use a star shaped cake (we used it for a rock star party!)

American Girl Mystery Party

At this fun party, an
American Girl Mystery game
(Affiliate Link) was purchased used and each girl brought their own doll.
Here is what the clever party invitation wording said:

_______ is turning 7, what a big deal!!!
Come solve a mystery, and figure out which character steals!!

We'll be sleuthing, crafting, & watching movies galore...
But, please wear your jammies when you walk through our door!!

Bring your favorite doll, perhaps slippers, too.
We'll have popcorn for the movie and cookie cake ...oooh!!

Pick up will be at half past eight...
Can't wait to share a night that's going to be great!!!!

After solving the mystery, the girls had cookie cake while watching the
American Girl Kit Movie.
(Affiliate Link) They made sleeping bags for their dolls while watching the movie (made by tying two pieces of fleece together). It was a lot of fun!
American Girl Spa Party
Another type of American Girl party that I've attending is an American Girl spa party. Here each girl brought their own doll from home. The girls each got manicures, pedicures and new hairstyles. So did the dolls! (actually the dolls just got pretend manicures and pedicures :-))
You could also adapt other party themes to your doll, just bring your doll along for the ride and have little plates, napkins and drink cups for the doll too!
Here I am with a real life American girl!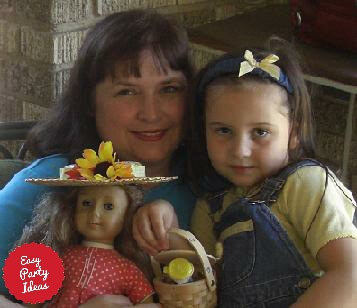 This site is a participant in the Amazon Services LLC Associates Program, an affiliate advertising program designed to provide a means for sites to earn advertising fees by advertising and linking to amazon.com.

Pages you'll love: 
Shop for discount party supplies for your American Girl party

Turn your party into a slumber party! Take a peek at this huge collection slumber party ideas.  
Tween? Don't miss the listing of Top Tween Party Ideas