Dinosaur Cake Ideas
This post may contain affiliate links. Read our full disclosure policy. 
This dinosaur cake is a 3D cake.
How awesome! 
AND you can do it yourself!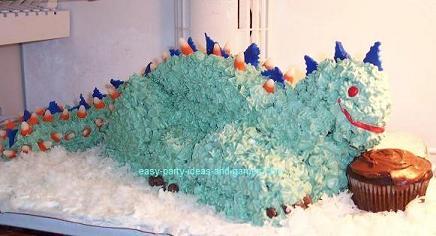 You could also use this for other parties other than a dinosaur party...think of Jurassic Park, Cave Man, Prehistoric, even Land of the Lost!
If your party involves going to a Natural History museum, going on a fossil hunt, or anything along those lines, this cake will fit right in.
Bottom line, this will satisfy any dinosaur lover!

Having a party more than one child? Have two cakes in different colors!
As a matter of fact, you could even use this cake when you need a dragon...such as for a Knight Party.
To make your own...
Bake two 9-inch round cakes and allow to cool.
Cut one of the round cakes in half, so that it becomes two 1/2 circles. Stand side by side.
For the appendages, you'll need a template. You can find one

here

along with complete step-by-step instructions!
Assemble, then decorate with icing and fondant. Cute!!
~Submitted by my friend Cynthia

Dinosaur Cake Pans 
Dinosaur Pans come in all sorts for designs, from cute to scary!

Shop for a
dinosaur cake pan
(Affiliate link)
This site is a participant in the Amazon Services LLC Associates Program, an affiliate advertising program designed to provide a means for sites to earn advertising fees by advertising and linking to amazon.com.

Let's

Connect

!

More Dinosaur Fun
Dinosaur Party Favors for Crafty Moms!