Dinosaur Party Favor
This post may contain affiliate links. Read our full disclosure policy. 
My friend Cynthia made the cutest dinosaur party favor a few years ago. And now she is sharing it with all of us (Thanks Cynthia!) for a great idea for your dinosaur party.
What she did was create dinosaur eggs to hold the favors. The eggs held things such as stickers/activity pages and a large dinosaur figure. The kids LOVED their favor, and it was something they got to sort of unwrap, which made it very special for them.
How to Make a Dinosaur Party Favor Egg
Step One:
First, she created the eggs by covering a balloon with paper mache. To do this - blow up a round balloon to the size you would like the egg to be, and then cover it in strips of newspaper held together with glue. The glue is something that you will make out of flour mixed with water. Just put some flour in a bowl and add water a little bit at a time until you get a paste that you can spread. You'll need to allow a couple of days for the glue to dry well, depending on how many layers you use.
Step Two:
After the flour and water "glue" dries, you are ready to paint your egg. Cynthia used textured spray paint in a brownish greyish color. It was perfect. Here is a photo of what they looked like after being painted: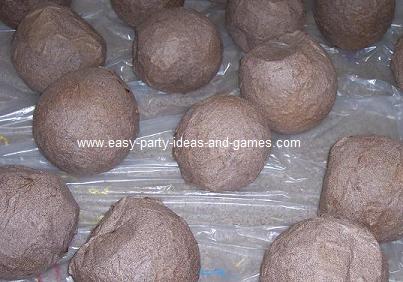 Step Three:
Next, a hole was cut in each egg and the goodies were put inside. The hole was filled with colorful, crinkly, shredded paper. 

Here is a photo of the eggs ready to go: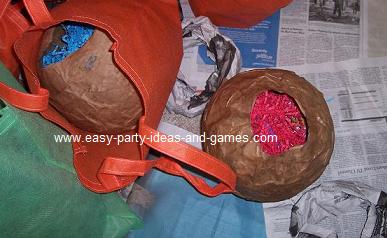 You could also fill the egg and then carefully cover the hole back up so it is closed, just like you do with a pinata. Then the kids would have to figure out how to "crack" their egg. If you decide to do this, make applying the paint the final step in the process of creating your dinosaur party favor.

Dinosaurs are such a popular party theme, so I know there has to be a lot of cute and really creative ideas out there for favors! Won't you join the conversation and tell us about your dinosaur party favor? 

This site is a participant in the Amazon Services LLC Associates Program, an affiliate advertising program designed to provide a means for sites to earn advertising fees by advertising and linking to amazon.com.

Let's

Connect

!

More Kid Party Fun
Planning kid parties is so much fun because you can go all in with your decorations, games and cake to create a really memorable themed event. Here are some more pages that may help you!