Space Shuttle Cake
This post may contain affiliate links. Read our full disclosure policy. 
Isn't this cake cool?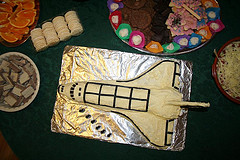 Photo by: http://www.flickr.com/photos/rarebeasts/ / CC BY 2.0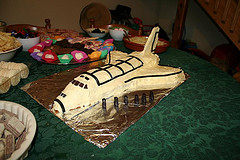 Photo by: http://www.flickr.com/photos/rarebeasts/ / CC BY 2.0

It would be loved by anyone who loves space stuff (I know lots of guys who would love that for an adult birthday party!)
It would also be great for an astronaut cake at a kid's astronaut party or space party.
Or...just because - you can celebrate the launch or this day in space history with this fun cake!
An easy way to make it is to decorate a cake you have made with an airplane cake pan.

---
Other Space Cake Ideas
One easy to decorate a space cake is to create a scene with figurines. You can do this by placing a toy space shuttle or toy astronaut on top of a cake.
Another idea is to create a planet, like the idea used for one of these superman cakes.
Shaped cake pans are another easy to use idea - there are some really cute pans out there! Shop for an
astronaut cake pan
---
Show Off Your Cake!
Show us your great cake and tell us how you did it!
---
This site is a participant in the Amazon Services LLC Associates Program, an affiliate advertising program designed to provide a means for sites to earn advertising fees by advertising and linking to amazon.com.

Let's

Connect

!

---
Try these ideas...
Add your Space Shuttle Cake to this page!
Aircraft Carrier and Airplane Party Cake