Adult Halloween
Party Ideas and Games
This post may contain affiliate links. Read our full disclosure policy.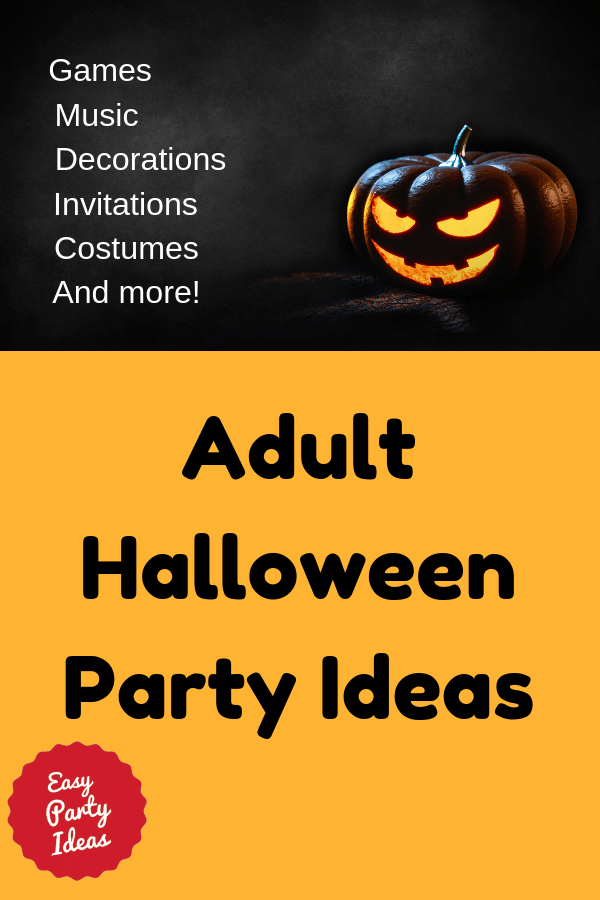 These unbeatable adult Halloween party ideas will help you plan a great event! Adults wants to have fun too, especially at Halloween!
I think adult Halloween parties are so great because Halloween is a time of year when adults will often go all out for party decorations and costumes.
At other times of the year, when a costume party is planned, you may find some adults who are leery. They are sometimes afraid that if they come in costume they will be the only one.
Not so at Halloween.
It is time to let our inner child out, and anything goes!
So if we're gonna do it...let's do that Halloween party up BIG!
---
Fun Halloween Party Invitations
First you'll want to start with some adult Halloween party invitations.
You can make your own with Halloween themed papers. Check out the selection at your local craft store in the scrapbooking papers area.
You can also go retro. Use good old construction paper and glitter. Cut out paper using the familiar shape of a bat, witch hat or ghost.
Halloween is becoming as popular as Christmas for decorations and such, so your local party store should also have some choices for you to purchase.
If shopping online, look no further than the great Halloween party invitation collection at Amazon.com.
Hint: Make sure you tell your guests if they should come in costume!

I also love the idea of including something fun in your invitation, such as a printable game from
PrintGamesNow.com
They have lots of fun choices like word searches, puzzles and trivia games which are very cheap but make a big impact!
---
Easy Halloween Party Decorations
Adult Halloween party planning wouldn't be complete without a mention of decorations.
Let your imagine go wild!
This is one party where there is no way to have "too much" as far as decorations go.
When planning your adult Halloween party ideas, keep in mind your audience. If children will be present, use battery operated candles rather than real ones, and with small children around, play down the scary Halloween party ideas to keep everyone happy!

---
Favorite Halloween Party Themes
Some popular Halloween party adult themes and adult Halloween party ideas are:


Halloween cocktail party – any occasion is right for a cocktail party, right? Serve Zombies or give all your drinks spooky names! (you can do this whether or not you are serving cocktails or mocktails.)


Scary Halloween parties – set up a haunted house, spooky decorations, or plan for some scary characters to show up. Ideas for Scary Halloween Parties

Halloween murder mystery party – murder mystery parties are fun any time of year, but especially go with Halloween.


Singles Halloween Party – get all your single friends together so they can mix and mingle.


Night Club Halloween Party – lots of night spots go all out for Halloween. Plan to meet up with your friends at your favorite spot and reserve an area for you and your friends.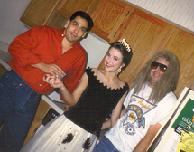 Halloween movie night – see the bottom of the page for some fun movie adult halloween party ideas!


Vintage Halloween Party - Remember the Halloweens of your yesteryear? Before the party have guests send you a photo of themselves as a child dressed up for Halloween. Post them and see if guests can identify each other "then and now"!
---
Music for Adult Halloween Parties
Your adult Halloween party ideas shopping list won't be complete without music. There are lots of fun Halloween party mix CD's available, or play some of your favorites from our collected list of Halloween party songs.

The best selection of Halloween music CD's available is at
Amazon.com.
---
Adult Halloween Party Ideas for Food
Adult Halloween party planning wouldn't be complete without thinking about food. Visit our page of Halloween party foods for ideas.
Every recipe you find there will be very easy (it's a requirement!), fun and festive, as well as delicious!
---
Best Adult Halloween Party Games
So you want to include games at your Halloween adult party? Sometimes awarding prizes for costumes is as far as it goes. But here are some fun adult game Halloween party ideas:


Candy Corn Guess – Fill a jar with candy corn and let everyone guess how many pieces are inside. The player with the closest guess wins!


Ghost Bingo – make your own Bingo cards, but instead of numbers, put Halloween images on the cards: a black cat, a ghost, a bat, a witch, a broom, a pumpkin, etc. Have someone draw for images, use candy corn or candy pumpkins as markers, and when someone gets a bingo, yell "boo!"


Halloween Charades – Play this just like charades, but with Halloween items (witch, cat, monster, etc.)


Halloween Trivia - Create your own trivia game with questions about Halloween customs, traditions and history, as well as Halloween themed movies and pop culture.

Halloween Who Am I? - Play the who am I? game, but with Halloween characters.


Halloween Word Scramble, Mazes, Crossword Puzzles – Have some of these at your party for an arrival activity or for a quiet activity.


Murder Mystery – A murder mystery might be fun!


Pass the Apple – Just like Pass the Orange, but with an apple!


Pinata - Select a piñata in a Halloween theme.
Printable Games - There are great Printable Halloween Party Games available that you can just print on your home computer and play. Easy!

Pumpkin Bowling – Try to knock over some bowling pins (or plastic water bottles) by bowling with a pumpkin.


Pumpkin Golf – Get some putting practice in. Hit a golf ball into a hollowed out pumpkin.

Scavenger Hunt - Create a Halloween themed scavenger hunt! Search for Halloween items, particular costumes or popular Halloween characters, or dress up in costume to go out on a scavenger hunt. The possibilities are endless! Then gather back together to tell the funny stories of your adventures.
Then and Now - Before the party have guests send you a photo of themselves as a child dressed up for Halloween. Post them and see if guests can identify each other.

Other great adult Halloween party ideas:
Go on a Hayride


Wear costumes! (and award prizes)


Show an old black and white Horror film – Dracula or Frankenstein and throw popcorn at the villain. Or…for other Halloween movie ideas, show something fun, like Young Frankenstein, Rocky Horror Picture Show or Ghostbusters!


Have A Great Halloween Idea?
Do you have a great idea for celebrating Halloween? Share it!
This site is a participant in the Amazon Services LLC Associates Program, an affiliate advertising program designed to provide a means for sites to earn advertising fees by advertising and linking to amazon.com.

Halloween Party Decorations
These are links to purchase some of the most popular Halloween party decorations:
Flameless Candles
Black Lights
Strobe Lights
Fog Machine
Cobwebs
Candleabra
Stuffed Crows
Halloween Scene Setters
Tombstone Decorations
Spider Decorations
Halloween Potion Jars
Halloween Skull and Skeleton Decorations
Halloween Pumpkins
Scary Sounds CD
Download these Halloween Party Songs
Let's

Connect

!

More "need to know" info:
Halloween Party Supplies, Invitations and Favors