Horse Cake Ideas
This post may contain affiliate links. Read our full disclosure policy. 
A horse cake - maybe better described as a "cake with horses" - works for so many party themes, young and old, male and female.
Below are a few examples that are easy for DIY and fun too.

Cake with Horse Figurines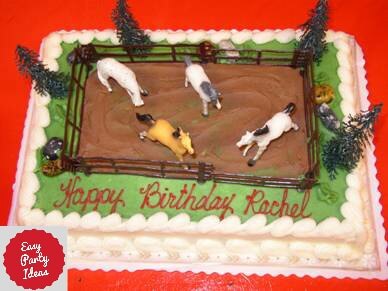 ~Cake shared by my friend Shannon
The easiest option is probably to create a sheet or round cake - whatever is easiest to serve at your party, and create a scene with icing and place the figurines on top.
You can purchase a cake decorating kit like the one shown in the image below, or you can simply put on your own figurines. Maybe something out of the toy box? If this is a cake for a child, let them help place the figurines (or at least help you decide where to put them.) I do this with my kids and they love helping design their cake this way!
If serving a cake like this with figures at a kid party, plan to have a bunch of little horses on hand. Every child there will be sure to want one (these would make great party favors!)
When to use a Horse Cake
A cake with horses would be perfect for these parties...
Farm Party
Barn Dance

Black Beauty Party
Felicity (American Girl) Party
Any "Old Fashioned" Theme (Carousel Horses)
Circus Party
Texas (or other Western state) Party

My Little Pony Party

Basically any theme or location involving a horse or horses would work with this cake!
Easy Cakes with 3D Cake Pans
Sometimes a 3D Cake is exactly what you want! This cool
Wilton Party Pony Pan
(Amazon Affiliate Link) is a popular option.
If using a 3D Cake Pan, you'll want to do the following steps to have the greatest success!


Plan to make your cake the day before so it has time to cool, and you also have time to fix any mistakes and be unhurried.
Pound cake is the best cake to use, or a mixture of pound cake plus another batter. You need a smooth batter, so don't mix anything in (candy, nuts, etc.)
Grease and flour every bit of the pan that will be touching the cake batter. It is better to use solid vegetable shortening instead of a spray because with the flour you will see if you missed any spots.
Preheat oven and prepare cake batter.
Place 3D Cake Pan on cookie sheet and pour batter into the pan. Fill to the top.
Bake according to the instructions that come with your pan.
When done, remove from oven and place upside down to cool (5-10 minutes). When cooled, gently remove pan(s.)
Put some icing on the cake plate (to help hold the cake in place) and place the cake on the plate.
Horse Related Cake Supplies
These affiliate links from Amazon provide some opportunities to shop for a horse shaped cake pan, horse cake toppers, and other horse related cake items.

My Little Pony Party Cakes
My Little Pony is HUGE! And it should be - cute ponies make a cute cake. This pony cake was used for my friend Lisa when her daughter had a My Little Pony Party! The party was a huge success, and everyone loved the cake.

The cake image below uses an edible image, but you could also use toy figurines to make a special cake.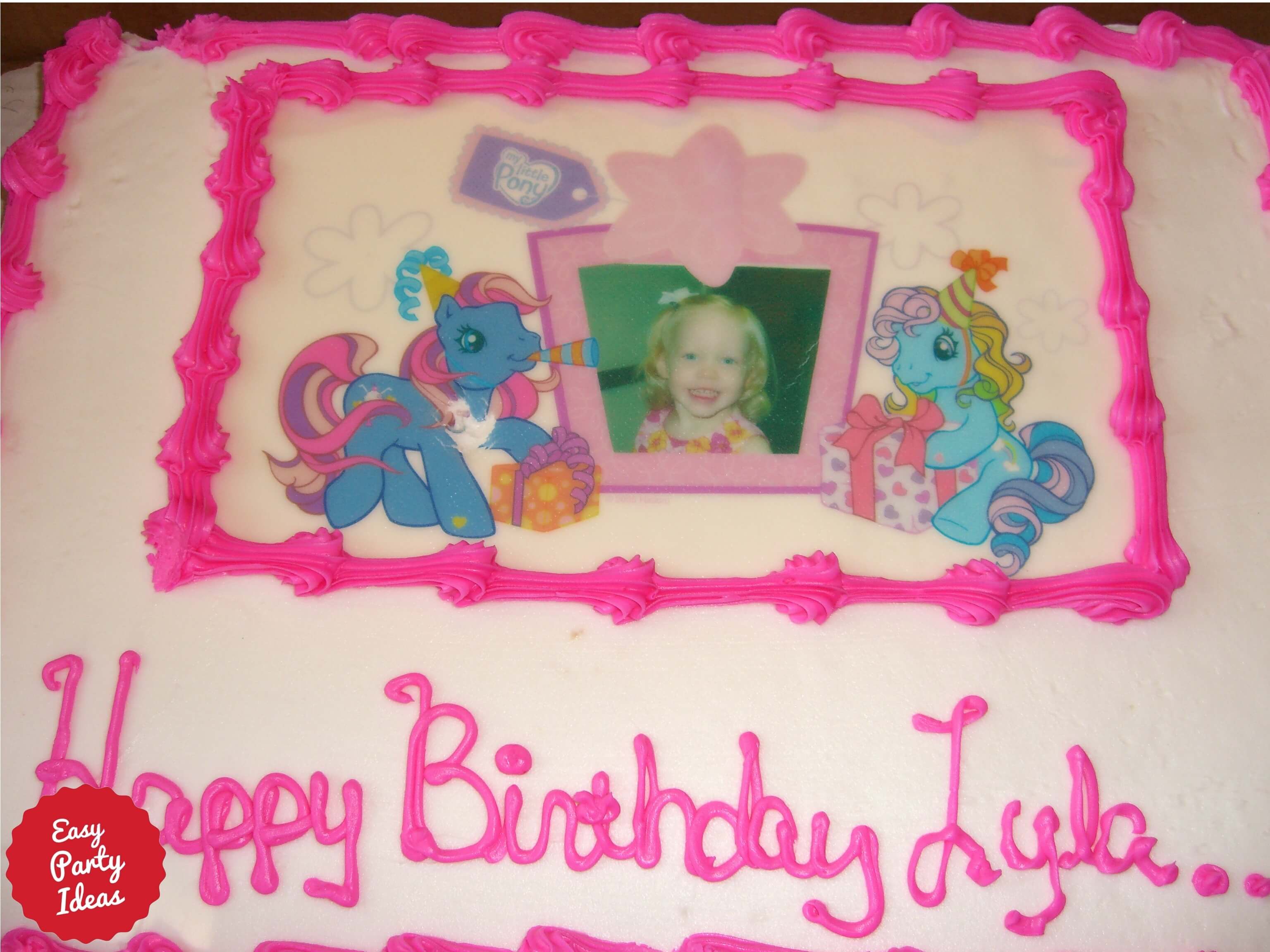 ~Shared by Lisa M.

Other Western Cake options
If your theme isn't just horses, but western, consider these alternatives to a horse cake:
Cake shaped like a horsehoe (you can use cupcakes to create this!)

This site is a participant in the Amazon Services LLC Associates Program, an affiliate advertising program designed to provide a means for sites to earn advertising fees by advertising and linking to amazon.com.

Show Off Your Cake!
Show us your great cake and tell us how you did it!
Let's

Connect

!

Related Pages
Be sure to visit our Horse Party page or our Cowboy Party page for some great party games to use with this cake!