Swan Party Ideas
As an Amazon Associate I earn from qualifying purchases. Other links on this site may lead to other companies that I'm associated with.
My friend Christy recently threw a Swan Party for her daughter.
She did some really unique and fun things at this party, and we're sharing them with you now!
The party was held at a public park that has a lagoon with paddleboats. Most of the paddleboats look like swans (there are a few ducks in there too).

As a side note, if you have a paddleboat lake in your area that has duck paddleboats, you could do this same party idea, giving away rubber ducky party favors.

So, back to the party. The kids first went on paddleboat rides.
Next, they went on a scavenger hunt in the area around the lagoon.
Here is the scavenger hunt list:
Walk around the lagoon and look for the following:
5 ducks
4 small turtles
1 large turtle
algae
bald cypress tree "knees" (roots growing above ground)
minnows
sunfish or Guadalupe bass fish
damselfly or water striders
How many swan boats do you see? How many duck boats?
Come to the picnic tables for your prize!

For a swan cake, Christy used a sheet cake and cut it into the shape of a swan. She decorated with white coconut to make it look "feathery".

I think it is adorable, don't you?

After the scavenger hunt and cake, there was a great homemade swan pinata! It is in the photo at the top of this page. Isn't it incredible?

The kids took home their pinata candy along with swan bookmarks and the little swan favor cups that you sometimes see at weddings. Now kids can use the swan cups to take little toys on their swan boat rides here at home.

This was a great kid party idea! A great example of taking a concept, such as the swan boats, and creating a whole theme party out of it.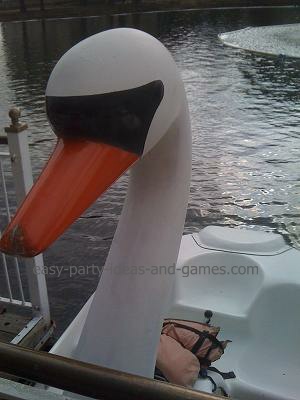 This site is a participant in the Amazon Services LLC Associates Program, an affiliate advertising program designed to provide a means for sites to earn advertising fees by advertising and linking to amazon.com.

---
Kid Party Ideas
Do you have a great kid party idea or game?

Share your ideas and photos here, and they will be added to this site to help other moms & dads everywhere!

You can leave comments and questions here too!
Let's

Connect

!

More Creative Fun
Make your own pinata (like the swan party pinata on this page!)