Map Cake
This post may contain affiliate links. Read our full disclosure policy. 
I love to travel, and that includes lots of maps! A map cake based on a map would be perfect for someone like me, and for the favorite traveler in your life!
Photo by: http://www.flickr.com/photos/shazbot/ / CC BY 2.0

This cake is made to look like a map, and would be a perfect travel theme cake for an adult birthday who likes to travel or who does a lot of traveling with their job.
Other ideas for a travel cakes include making a cake to look like a globe or a mode of transportation.
Courtesy of http://thewrightsofpassage.blogspot.com/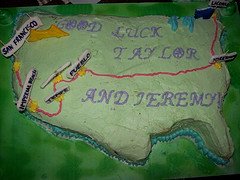 Photo by: http://www.flickr.com/photos/mooseblend/ / CC BY 2.0
Other uses for this cake include a bon voyage party, vacation party, road trip party, or around the world party.

This site is a participant in the Amazon Services LLC Associates Program, an affiliate advertising program designed to provide a means for sites to earn advertising fees by advertising and linking to amazon.com.

Show Off Your Cake!
Show us your great cake and tell us how you did it!
Let's

Connect

!

Let's go Traveling