Crocodile and Alligator Cake Designs
This post may contain affiliate links. Read our full disclosure policy. 
An alligator cake! Scary fun!
And these represent some of the fun ideas I've been finding a lot of recently for children's birthday cakes - 3D cakes!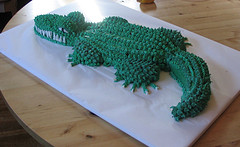 Look at those teeth!
Photo by: http://www.flickr.com/photos/lincolnlog/ / CC BY 2.

The cakes on this page represent an alligator or crocodile - which would be fun for a Peter Pan Party or even an Indiana Jones Party. You can make it scary or cute and whimsical too!

I really like to use 3d pans (if you have them) - but sometimes it is hard to find exactly what you want. That is the case here - a cake pan doesn't seem to exist. I've seen instructions on using different types of pans to create different shapes, but I think sometimes it might be easier to create your template of what shape you would like for your alligator, and then cut large sheet cakes into that shape.
To make the cakes in these photos, you will basically make a sheet cake and a few cupcakes, and then cut your cake into strips to create your desired shape. You'll have to use your imagination, but when you get it decorated it can be a really fun masterpiece.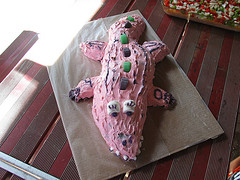 Photo by:  http://www.flickr.com/photos/jimk_9999/ / CC BY 2.0
I especially like this cake being a girl alligator, don't you? She's not so sinister - maybe it is the eyelashes! :-)
3D Cake Molds for Alligator Cake Designs
Sometimes it is nice to have a cake mold when trying to create a 3D cake design, but I had a really hard time trying to find a cake mold to create the alligator cakes like the ones above. But in my search I found something else that is REALLY neat!
Alligator impression molds to use with fondant icing!
(Affiliate Link.) I haven't tried them before, but am anxious to do so.
I could see this cake being used for creating all sorts of things - not just alligator, crocodile and dinosaur cakes, but also handbag cakes, or anywhere you'd lie that rich animal hide texture!
If you try it before I do, please let me know how it works out!

Florida Gators Cake Pan
Do we have any Gators fans in the house? If so you may be interested in these 3D muffin pans... (Affiliate Link)

This site is a participant in the Amazon Services LLC Associates Program, an affiliate advertising program designed to provide a means for sites to earn advertising fees by advertising and linking to amazon.com.

Show Off Your Cake!
Show us your great cake and tell us how you did it!
Let's

Connect

!

---
Shop for an
alligator cake pan