50th Birthday Celebrations
This post may contain affiliate links. Read our full disclosure policy. 
Everyone is up for 50th Birthday Celebrations!
Whether or not you've had adult birthday parties up until now, a 50th birthday party is often cause for celebration!

50 of anything is something of a magical number.
Think of 50th wedding anniversaries, 50th class reunions...50 is just such a nice round number.
It makes sense that people want to celebrate 50 as a milestone birthday. Plus, they are ready to do it in a really big way with memorable adult birthday parties.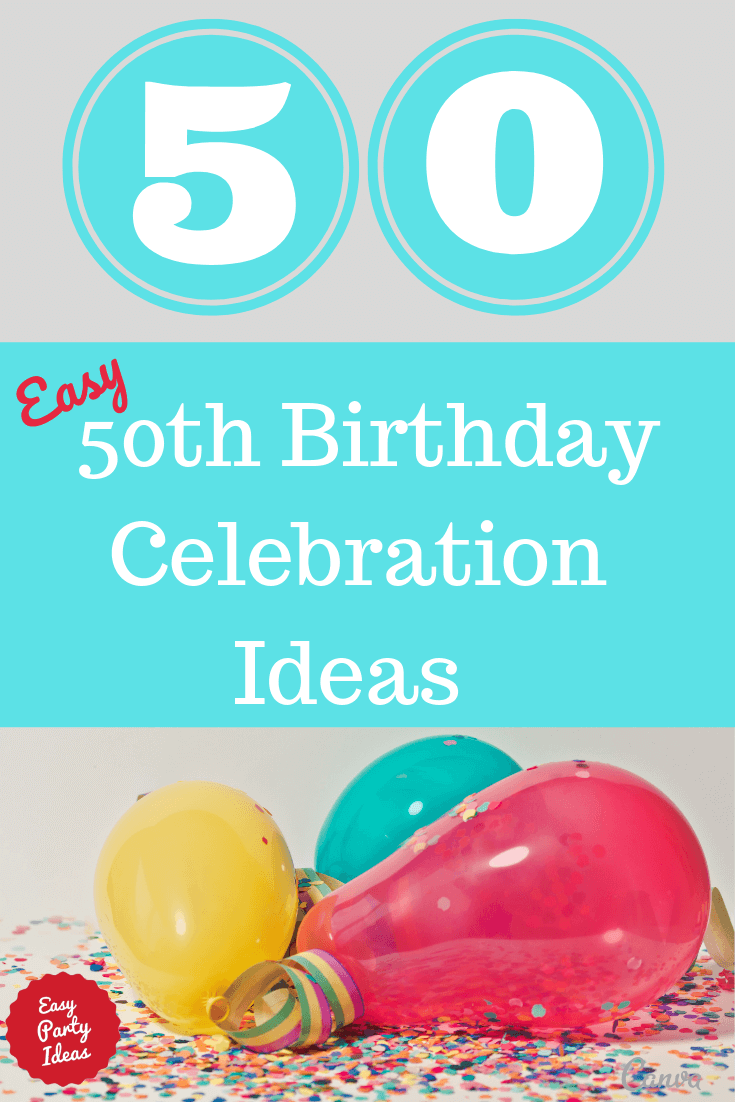 Some of the most popular ideas for 50th Birthday Celebrations are:
Have a party at home for friends and family. Pick a great

adult party theme

and you are all set!
One fun theme would be to do a 50's party (or pick your favorite decade!). 50's parties are one of the most popular party themes. They bring back a time of nostalgia. Whether or not your were alive in the 1950's, you can probably appreciate either the music or the culture made popular in t.v. shows like Happy Days or movies like Grease.
Another fun idea for a 50th birthday party theme is to do a Hawaii 5-0 party. With this 50th birthday party theme you can use lots of

Hawaiian luau party ideas

.

This is also a fun idea because you can have fun making a lot of

homemade party decorations

so the party doesn't have to be as expensive to decorate.
You can also have a party at a private club or other facility. You can rent out a ballroom and have fun dancing the night away! For easy decorations, add lots of balloons, like at

Jimmy's 50th birthday party

.
Want to keep it simple? Then celebrate your 50th birthday with a dinner at a restaurant or at home including your favorite friends! Propose a birthday toast, or read a

funny 50th birthday poem.
Other top birthday celebration ideas include going on a fun outing or destination, such as going bowling, to the movies or even places like Medieval Times!
Some folks like to take a special trip for their adult birthday parties - just you and a friend, or with a group!
While this isn't technically a

"golden birthday",

you can always use a theme of gold for your 50th birthday celebrations.
An easy party activity for any party is to purchase and print inexpensive Printable Birthday Games.
Don't forget a

50th birthday cake

at your 50th birthday celebrations!
For more 50th Birthday party ideas, visit

50th Birthday Party Ideas.com.
After your party, come back to this site and

create your very own party page.

Share the details of your party (you can even add photos)! We'll add them to the site and you'll be helping others by sharing all your great ideas!
This site is a participant in the Amazon Services LLC Associates Program, an affiliate advertising program designed to provide a means for sites to earn advertising fees by advertising and linking to amazon.com.

Let's

Connect

!

Trending