Racetrack Cake
This post may contain affiliate links. Read our full disclosure policy. 
A racetrack cake salutes the fun that both racers and spectators experience when watching a great race.
There are all sorts of races - car, trucks, bike, foot, horse and dog, and more....
It doesn't matter which race it is, they are all exciting to watch and have lots of fans, both young and old.
Car Racetrack Cake
Are you a Nascar fan?
Maybe Formula One?
Planning a kid's birthday party theme as a car party?
This would be a great cake to make, and then put on top whichever type of vehicle applies.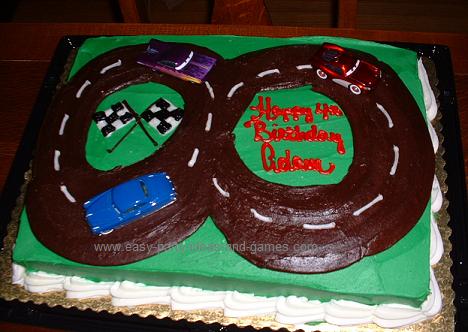 This cute cake was made by my friend Katherine, for her son's birthday party.
But, when you think about it, because people old and young alike seem to love racecars, it is no surprise that this might be a fun birthday cake theme.

Because love of cars is so universal, you could use this cake for an adult birthday party or teen birthday party (car theme cakes are great for that 16th birthday party when teens are getting their driver's license)
Kids would love this car cake as part of a race car party, or use any of the fun car cakes for the party too.
Here is another take on the idea: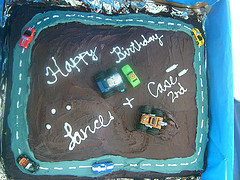 Photo by: http://www.flickr.com/photos/karamirez/ / CC BY 2.0
Sources
Visit the car cake page for more inspiration!
One thing that you might want to include are fun
checkered flag party supplies
(Amazon link)
Cake for Horse Races
When mentioning a race track, some people naturally first think of Horse Racing!
The easiest way to accomplish this cake would be to put together a cake with several figurines.
Another option is to create a cake in the shape of a horseshoe. Wilton used to make a pan in the shape of a horseshoe, and if you can find one (try ebay) it could tie in for the horse, and also be used anytime in the future you want to say "good luck' with a piece of cake. 
This page on this site has other horse related cake ideas: Browse Horse Cake Ideas
 
Kentucky Derby Party
Getting together with friends to watch the Kentucky Derby is a lot of fun. Held at the beginning of May each year, it is a great opportunity to throw a party. Here are some ways to make it special:
Tell each guest to wear a hat, just as if they were going to the Derby!
Serve good ol' Southern food, maybe BBQ or Fried Chicken
Serve Mint Juleps - there are non-alcoholic versions out there so everyone at your party can enjoy something in the spirit of the event!
Play a game! Before the party, shop of some small fun gifts. When guests arrive, let them draw the name of a horse, and whoever has the winning horse gets a gift, along with 2nd and 3rd place, etc. Instead of gifts you can also have everyone contribute to a cash prize pot, or supply the cash prize yourself. This will really get guests cheering for their horse!
Don't forget the horse racetrack cake!
This site is a participant in the Amazon Services LLC Associates Program, an affiliate advertising program designed to provide a means for sites to earn advertising fees by advertising and linking to amazon.com.

Show Off Your Cake!
Show us your great cake and tell us how you did it!
Let's

Connect

!