Hannah Montana Cake
This post may contain affiliate links. Read our full disclosure policy. 
A Hannah Montana cake is a great example of a cake that fits the current favorite TV show.
When Hannah Montana was a top rated TV show, every little girl (and some little boys) loved it! The idea of being a rock star or celebrity in disguise, and then getting to be a regular girl too is just too fun.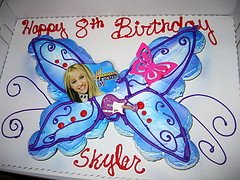 Photo by: http://www.flickr.com/photos/derek-and-edith/ / CC BY 2.0
Other ways to create a Hannah Montana Cake
Other fun ideas for a Hannah Montana birthday cake would be a Rock Star Cake or Guitar Cake.The trick is finding things that go along with the story line of the show, and then adapting it to your party.

Hannah Montana Party Ideas
This idea for a Hannah Montana Party was shared by one of our site visitors:

Have a Hannah Montana look alike contest and Hannah Montana decorations. Have her music playing the whole time and gift baggies with her stuff.

Show Off Your Cake!
Show us your great cake and tell us how you did it!
This site is a participant in the Amazon Services LLC Associates Program, an affiliate advertising program designed to provide a means for sites to earn advertising fees by advertising and linking to amazon.com.

Let's

Connect

!