iPhone Cake
This post may contain affiliate links. Read our full disclosure policy. 
This iPhone cake would be great for an adult birthday party or teen party.
Who doesn't love their cell phone right? (and how did we ever live without them?!)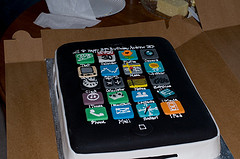 Photo by: http://www.flickr.com/photos/ablight/ / CC BY 2.0

To make it extra personal, you can make your apps on this iPhone (or similar phone) relate to the birthday person too.
You could make the apps with fondant, if you have the time and love to work with it, or in a rush you could just print the apps on heavy cardstock or something that won't be affected by the icing, and place them on the cake.
An easier option is below, using M&Ms for colorful "apps!"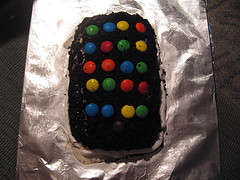 Photo by: http://www.flickr.com/photos/andie712b/ / CC BY 2.0
You might also enjoy an Ipod cake!
How to Make Fondant for your iPhone Cake

Ingredients:
1 tablespoon + 2 teaspoons unflavored gelatin
1/4 cup cold water
1/2 cup Glucose  (can't find? Try light/clear corn syrup)
2 tablespoons solid vegetable shortening
1 tablespoon Glycerin
Flavoring to taste (For example, Vanilla or Almond)
Any icing color
7 1/2 cups sifted confectioners sugar
How to make fondant:
Combine gelatin and cold water and then let it stand a few minutes until it  thickens.
Place the gelatin and water mixture in the top of double boiler. Heat and stir until dissolved. Add glucose and mix. Add vegetable shortening by stirring it in.  Remove from heat just before it is completely melted.
Add glycerin, plus any flavoring and any coloring.
Once lukewarm, pour confectioners sugar into a large bowl and create a well in the middle. Pour the gelatin mixture into the well, and stir with the spoon until no longer sticky. (Use a wooden spoon.) Knead until smooth and no longer sticky.
Store up to a week in an airtight container at room temperature or refrigerate if storing longer. Knead it again when you are ready to use it, to make it soft. If it has been in the refrigerator, bring it back to room temperature before kneading.
Show Off Your Cake!
Show us your great cake and tell us how you did it!
This site is a participant in the Amazon Services LLC Associates Program, an affiliate advertising program designed to provide a means for sites to earn advertising fees by advertising and linking to amazon.com.

Let's

Connect

!

Top Site Pages to Visit