The Best Company Christmas Party Ever
This post may contain affiliate links. Read our full disclosure policy. 
A great company Christmas party, for a company-wide party, can be a great opportunity to get people together.


It is an opportunity for networking as sometimes there are branch offices involved, or at least people in different departments who finally can have a chance to meet up with those in other areas in a non-formal, fun atmosphere.
Many people automatically think of the traditional banquets when they think of a company party.
These are a way to celebrate with a lot of people, but there are a few ways to make it a lot more fun and something for your employees to really look forward to.
Themes for your Company Party
First, plan a Christmas party theme that will be fun for your group.
Make it more interesting.
How?
Go beyond the idea of "Christmas" and combine the holiday celebration with another party theme. One idea is to do a Hollywood Christmas theme and tailor your party around Hollywood Christmas movie characters, scenes and movies.
Some of our visitors have told us about some great company Christmas parties.
Some of their great ideas include a Cowboy Christmas Party and a Surviving Christmas (Survivor Themed) Party. Read about them and see for yourself!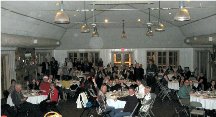 Add some excitment to your company Christmas Party!
Here are a few ways to make your party stand out from the crowd. Would you just love for the employees to brag about their awesome company party.
One way to add excitment to your Christmas dinner is to add dancing. Whether from a DJ or live band, select a mix of music that the partygoers will enjoy.
Another great thing to do is to have casino gambling tables. Play with fake money for prizes. Some of the prizes could even be non-monetary, such as a extra day off with pay.
Bring in some entertainment. Charicature artists, photographers and silly awards at the end of the night. You could even bring in a comedian to do an old-fashioned "roast" of the boss.
You can also make the employees the entertainment by having a talent show. Give prizes to the best acts, with the audience or a panel of judges voting.
Karaoke! Need we say more?
And rather than having the traditional served banquet, making it a buffet affair gives employees more of a chance to mix and mingle.
Need more inspiration for your Christmas party?
If you have a big budget, click here to read about the ultimate Corporate Christmas party. Maybe you'll get some great ideas to use for your own party.



This site is a participant in the Amazon Services LLC Associates Program, an affiliate advertising program designed to provide a means for sites to earn advertising fees by advertising and linking to amazon.com.

Let's

Connect

!

Links to More Business Christmas pages: