Office Christmas Party Games
This post may contain affiliate links. Read our full disclosure policy. 
Planning for office Christmas party games can be tricky.
No two groups of office employees are the same, but you want something that will be fun and that everyone will participate in.

The easist idea for Office Christmas Party Games!!!
The
absolute simplest idea
is to purchase printable
Christmas Office Party Games
from the experts at PrintGamesNow.com!
These are affordable and you get them in an instant - just print on your own printer!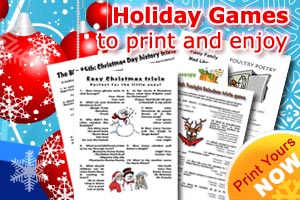 There is a lot of variety to the different games, so there should be a choice that will work for your group. 
Other popular office party game ideas include...
Childhood Christmas Photo Game
Before the party, have everyone submit a photo of themselves as a child at Christmas.
Number all the photos and post them in an area where everyone can view.
Party-goers can guess who is the child in photo #1, photo #2, etc.
This works great for office Christmas party games. 

---
Christmas Challenges
Divide into teams and set up some fun challenges (like on minute to win it).
---
Christmas Office Party Game
Before the party secretly remove a personal object from each person's desk.
Number all the items and lay them out in an area where everyone can view.
Party-goers can guess who is the owner of item #1, item #2, etc.
---
Off Limits Game
Play the off-limits party game but use common Christmas words such as ornaments, decorating, gifts, shopping, Santa, and Christmas!
---
Unwrap the Gift
Sometimes used at a birthday party, you can also have fun with this as a Christmas party game idea.
You'll need a gift that has been wrapped in multiple boxes and multiple layers of gift wrap.
Sit in a circle around a gift, with the first player holding the gift.
On "Go" the first player has 10 seconds to try to open the gift as much as he can.
When 10 seconds is up, the gift passes to the next person for a turn.
After another 10 seconds the gift is passed to the next person.
The winner is the lucky person who ultimately gets to the gift inside.
This one can get a little frantic and fun!

---
Who Am I?
Take turns figuring out what Christmas character you are in the Who Am I? Game.
Christmas party game rules are the same as any other party, just use seasonal characters.

---
Christmas Murder
Put on a Christmas themed murder mystery, with everyone having a part to play! This works great if you have a small office, where everyone gets a part to play in the mystery.
Do you have a great easy party idea or game?
Share your great ideas!
This site is a participant in the Amazon Services LLC Associates Program, an affiliate advertising program designed to provide a means for sites to earn advertising fees by advertising and linking to amazon.com.

Christmas Party Supplies for you!

Humorous Christmas Plastic Drinking Cups
Buddy the Elf Cardboard Cutout
Colorful Christmas Straws
Christmas Photo Booth Props
Christmas Photo Backdrops
Christmas Party Invitations
Bulk Christmas Candy for Candy Bars
Candy Cane Spoons
Printable Christmas games
Let's

Connect

!