Cinco de Mayo Cake
This post may contain affiliate links. Read our full disclosure policy. 
A Cinco de Mayo cake that looks like a Mexico flag can be used to celebrate the Cinco de Mayo holiday at a Cinco de Mayo Party.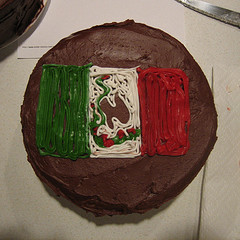 Photo by: http://www.flickr.com/photos/wagnerr/ / CC BY 2.0

You can also use this cake as something to serve at an Around the World Party or when you are having a Mexican dinner.
Another idea that you could do is create a cake in the shape of your choice and place little toothpick Mexican flags around the top to make a Mexican cake.

Celebrate with your Cinco de Mayo Cake!
Decorating is key to any party. The Mexican Flag colors are red, green and white. Luckily those colors are plentiful in party supplies because they can be reused at Christmas time.
Add some piñatas and giant tissue paper flowers to your decorations. They are easy to make and will add a lot of color and wow! to your party.
How to Make Giant Tissue Paper Flowers

For more ideas, visit my page devoted to a Cinco de Mayo Party.

Show Off Your Cake!
Show us your great cake and tell us how you did it!
This site is a participant in the Amazon Services LLC Associates Program, an affiliate advertising program designed to provide a means for sites to earn advertising fees by advertising and linking to amazon.com.

Let's

Connect

!