Wizard of Oz Cake Ideas
This post may contain affiliate links. Read our full disclosure policy. 
A Wizard of Oz cake, like the party theme, is so fun to brainstorm! I love the Wizard of Oz as a party theme, and have actually used it (more than once) as a party idea.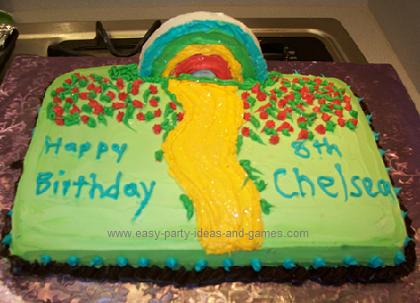 This is a Wizard of Oz birthday cake that I made, and was really pleased with the way it turned out.
Here is another view...after we placed the Wizard of Oz figurines on top (the birthday girl got to place them on the cake herself!)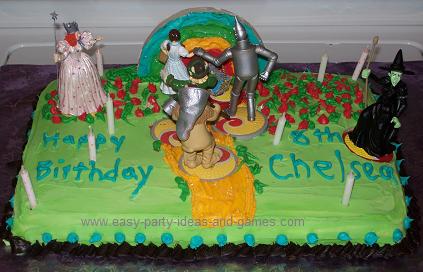 Want to know how I made the rainbow?
I used a circular piece of styrofoam, cut it in half, and then iced it with different colors of icing. So it looked like more cake (but wasn't)!
More Wizard of Oz Cake Ideas
Whether you are having a party for those who are young or young at heart, it is a really fun theme with lots of cake possibilities.
You can create a scene from the movie as your cake, such as making a green castle cake (to respresent the Emerald City). 
Other creative ideas to use on your cake include:
Dorothy's house
Corn Field
Any of the friends - lion, scarecrow, tin man (maybe make one small cake of each one?)
Create a doll cake using Dorothy
Edible Image from the movie
Wizard of Oz figurines

Rainbow Cake
Have you seen rainbow cakes? These are when the inside of the cake is different colors. Really special!

How to make a Rainbow Cake
Show Off Your Cake!
Show us your great cake and tell us how you did it!
This site is a participant in the Amazon Services LLC Associates Program, an affiliate advertising program designed to provide a means for sites to earn advertising fees by advertising and linking to amazon.com.

Let's

Connect

!

Lots of Wizard of Oz Party Ideas!
Wizard of Oz party for teens and adults