Care Bears Cake
This post may contain affiliate links. Read our full disclosure policy. 
A Care Bears Cake has been one of the top cake and party ideas for my own daughter.
Lots of children love the Care Bears. Not only are the stuffed toys just adorable, but the movies and other items are cute too. We ended up with quite a collection at our house!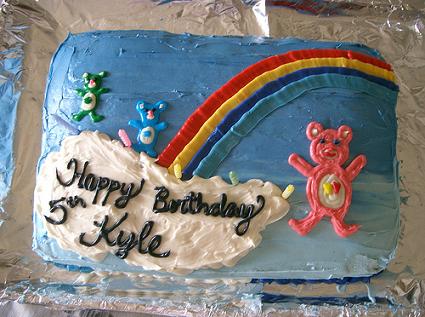 Photo by: http://www.flickr.com/photos/karamirez/ / CC BY 2.0
This cake would delight any Care Bears fan. You can pick your favorite bears from the series and use them on the cake, not just the ones shown.
Watch out - bet the kids will fight over which bear they get to "eat" - always the sign of a great cake!
To make this cake, you just need to bake a regular sheet cake, and then decorate with icing. I like the idea of putting the writing on the white cloud.

Care Bears Cake Pan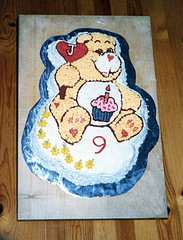 Photo by: http://www.flickr.com/photos/janetmck/ / CC BY 2.0

This is another cute cake, but this time using a Carebears cake pan. Then just use your favorite colors!
A quick search of Amazon and the internet shows that there are lots of Care Bears cake pans out there (some are retired) - so you should be able to find one pretty easily.
You can also adapt "bear cake pan" like the ones shown below thru our affiliate link to Amazon, and decorate them to turn them into Care Bears.

There are lots of
Care Bear Cake Toppers
(Amazon link) available as well, so it is possible to create a blank sheet cake and add the cute little figurines on top. How easy is that?
Rainbows!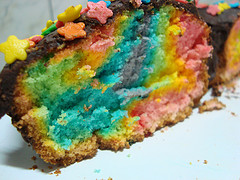 Photo By: http://www.flickr.com/photos/happy-batatinha/ / CC BY 2.0
Remember that cute rainbow on Cheer Bear's belly? Use the rainbow in a lot of your decorating. As a matter of fact, your cake can be a rainbow! Bake a sheet cake and arrange M&Ms or Skittles to form a rainbow across it. You can also create a rainbow with icing, lay out cupcakes to make a rainbow or create a rainbow inside!
There are so many rainbows in the Care Bears merchandise, and I think the kids would love the colorful rainbow!
Care Bear Treasure Hunt
One of my favorite games for this party theme is to have a treasure hunt! Look to the bears themselves for inspiration of what to hunt for (have these items hidden in advance of the party) - something with a clover, something with a heart, something with a rainbow, etc.

This site is a participant in the Amazon Services LLC Associates Program, an affiliate advertising program designed to provide a means for sites to earn advertising fees by advertising and linking to amazon.com.

Show Off Your Cake!
Show us your great cake and tell us how you did it!
Let's

Connect

!

All you'll ever need!