Spiderman Cake Ideas
This post may contain affiliate links. Read our full disclosure policy. 
Hooray it's Spiderman! (And a Spiderman Cake!)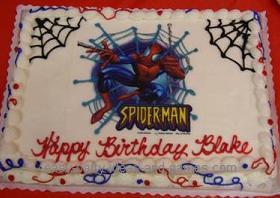 ~Cake shared by my friend Shannon

Here is a great Spiderman Birthday Cake. It is perfect for a spiderman party, superhero party, comics party, or even a cartoon party!
I immediately loved this cake when I saw it, because of the extra touches.
Of course it has a graphic of spiderman on it, and the kids birthday greeting written on it...
...but I love the icing "streamers" in red and blue around the edges of the cake!
And I especially love the spider webs in the corners.
This cake is sure to please your favorite superhero!
-shared by my friend Shannon

Spiderman Cake Pans
There are several pans, cake toppers and accessories available for Spiderman! Shop online to find current choices.

Spiderman Figurines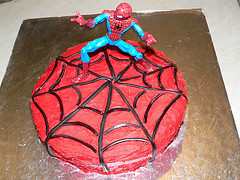 Photo by: http://www.flickr.com/photos/sondyaustin/ / CC BY 2.0
Bet if you have a spiderman fan that you have a spiderman figurine at home! If so, create a spider web cake and then place your spiderman on top!

Inspired? If so, tell us about your spiderman cake ideas!


So many superheroes...So little time!
If having a superhero party, you may want to add a Batman Cake or Superman Cake!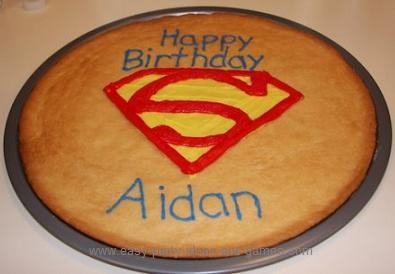 This site is a participant in the Amazon Services LLC Associates Program, an affiliate advertising program designed to provide a means for sites to earn advertising fees by advertising and linking to amazon.com.

Let's

Connect

!