Soccer Cake
This site contains affiliate links, meaning if you click on the link and make a purchase, I may receive a small commission (at no cost to you!) I only recommend products I've personally used or would love to use myself! Get the scoop here.
The game of soccer (called football in many places of the world) can inspire lots of parties, such as a soccer party or a general sports party.
A football cake makes for other popular sports cake ideas.
Here are a few fun cake designs for your soccer theme cake: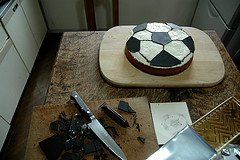 Photo by: http://www.flickr.com/photos/lancesh/ / CC BY 2.0
Wow! Take a look at this cake! I was really impressed by how beautifully it was decorated to look like a soccer ball. Great use of a round cake pan!

---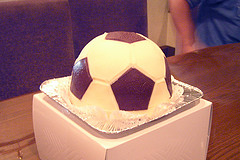 Photo by: http://www.flickr.com/photos/spiegel/ / CC BY 2.0
I always love 3D cakes. This is another fantastic cake decorating job!
Try using a
soccer ball cake pan
to make your cake.
---
This site is a participant in the Amazon Services LLC Associates Program, an affiliate advertising program designed to provide a means for sites to earn advertising fees by advertising and linking to amazon.com.

Let's

Connect

!