Halloween Party Planner
This post may contain affiliate links. Read our full disclosure policy. 
Using a Halloween Party Planner or list is really useful when planning a Halloween party (or any party!). Personally, this can help me make sure I haven't forgotten anything.
What should you include on your list? You'll find my list below - answer each question and you'll have your party planned! The links will send you to other pages on this site to give you LOTS more information.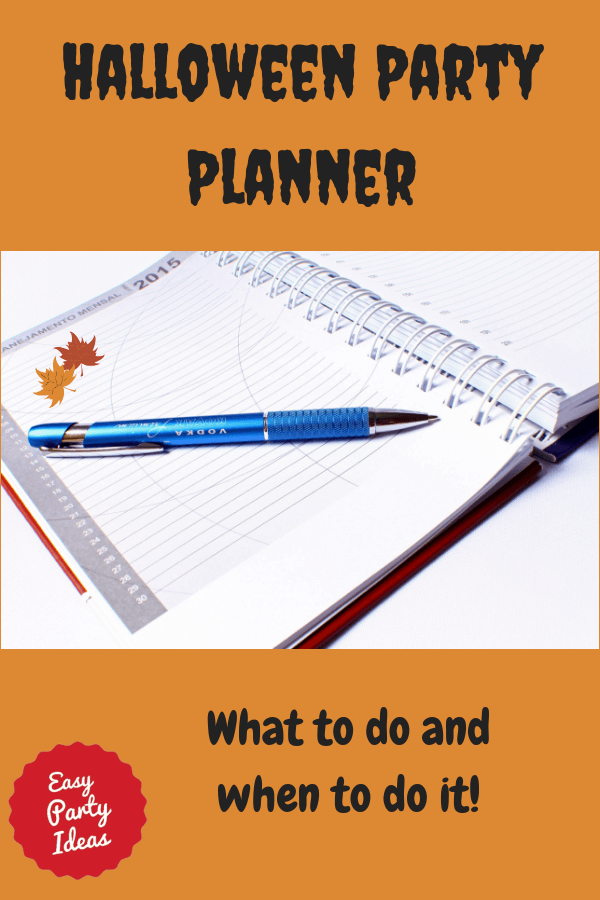 When (Day and Time) - Give your guests plenty of notice. Halloween (and Fall in general) can be a really busy season. Even if you don't have all the details squared away, telling your guests to "save the date" will help give them plenty of time to get a costume together and clear their calendar so they are available to attend. 
Location- Many Halloween parties happen at home. If you are doing it at a venue, you'll want to book really early in the season. Make sure you have enough parking, and think about fun decorations you can do to the exterior to greet your guests as they arrive.
Costumes - Halloween is the perfect time for a costume party! People who are usually reluctant to wear a costume are much more willing during the Halloween season. Be sure to tell guests on the invitation if you want them to wear costumes, and do it early enough so they have adequate time to plan.

Invitations
- There are so many options  for invitations - you can make your own, purchase, or send out invites online.
Food
-
One of my favorite parts of planning Halloween parties is planning all the festive food that can really carry out the Halloween theme. 
Drinks - Magic potions anyone? Another fun way to carry out the Halloween theme. 
Cake - Lots of cute Halloween themes out there - from graveyards, to eyeballs, to ghosts, black cats and zombies. 
Decorations - A must for your Halloween party! Make sure you keep a list in your Halloween party planner of decorations that will help set the mood and add so much "atmosphere" to create a really memorable event. 
Music - Include Halloween and spooky favorites in your mix of tunes. 
Costume Prizes - Reward your guests for their costume creativity - plan to hand out these prizes. 
Games
-
There are SO MANY great Halloween games to choose from for all ages, from preschool thru adults! We've got you covered! 
Favors - It is always nice to give a little parting gift to your guests as a memento of your party. Any Halloween item, such as candy, will do, but you may to check the Halloween party favors selection at Beau-coup.com for really special items that go the extra mile!

Halloween Party Planner Help
If you need help coming up with ideas for these items on your Halloween party list, visit our Halloween Party Website Hub. Happy planning!
This site is a participant in the Amazon Services LLC Associates Program, an affiliate advertising program designed to provide a means for sites to earn advertising fees by advertising and linking to amazon.com.

Halloween Party Decorations
These are links to purchase some of the most popular Halloween party decorations:
Flameless Candles
Black Lights
Strobe Lights
Fog Machine
Cobwebs
Candleabra
Stuffed Crows
Halloween Scene Setters
Tombstone Decorations
Spider Decorations
Halloween Potion Jars
Halloween Skull and Skeleton Decorations
Halloween Pumpkins
Scary Sounds CD
Download these Halloween Party Songs
Let's

Connect

!

Trending Halloween Party Planning Pages