Bunco Dice Game
This post may contain affiliate links. Read our full disclosure policy. 

Have you played a bunco dice game before? Whether you've played once or are part of a regular bunco game, you'll find that we all share something...
No two groups play the game the same way!!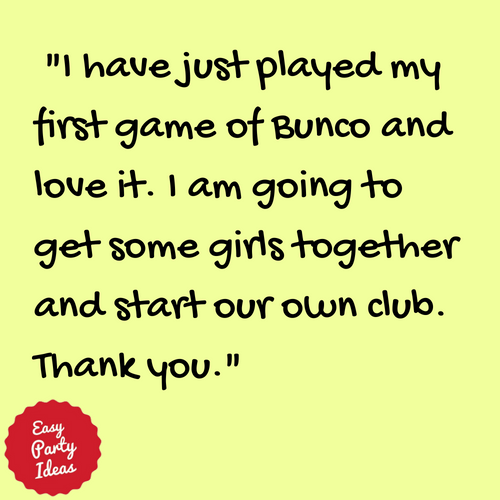 The bunco dice game is one of my favorite games (obviously, since I've alloted a portion of this website to it).
Bunco is easy to play and portable, and a lot of fun. It requires no strategy.
But there are other dice games that are really popular as well. Read on for details, and the affiliate links below will take you to Amazon.com in case you want to purchase any supplies.

One is called 100. (Perhaps it has another name, but that is what I call it...)

---
Dice Game 100
To play you'll need two dice. Each player also has a piece of paper and a pencil.
For the first game, the target number will be one.
Each person takes a turn rolling the dice.
If someone rolls and one or both of the dice is a "one", the roller will start writing numbers from 1 to 100 as fast as they can. Meanwhile, the other players continue to roll.
If one of the other players rolls a "one", the player who was writing their list of numbers will stop writing, and the latest person to roll a "one" starts making their own list.
Play continues until someone makes it to 100. Next round, try to roll a "two" as the target number.
This game of dice is a lot of fun because the person doing the writing is writing down numbers as fast as they can, while the other players are rolling the dice as fast as they can trying to roll the target number. It can become pretty frenzied with the right crowd.
There are other great dice games as well.
Some of these games can be purchased, or if you know how to play you can create your own.
I've included links from the games listed to Amazon.com in case you would rather purchase than make your own.
Some favorite dice games include:

---
Farkle
The game of Farkle uses six dice, and unlike bunco where a turn is determined only by luck, with Farkle you can decide to play risky or safe.
Another difference from bunco is the ability to play with different numbers of players.
Lots of folks love this game.

---
Yahtzee
The dice game of Yahtzee has been around for years (since 1956), and has stood the test of time. A classic party game! In this dice game players accumulate points by rolling a straight, full house, etc.

---
Liar's Dice
Liar's Dice has been around for hundreds of years, and legend says it was once an old pirate's game. It involves rolling your dice, and then bluffing with your opponents to try to outbid them.
Easy to carry around and play on the spur the of the moment! 

---
Have any great bunco ideas to share?
If you've played this fun and easy game - share with our visitors your bunco themes, rules, recipes, prizes and photos!
Bunco Baby Shower Not rated yet
We recently had a bunko baby shower for a friend who was expecting her 5th baby! She is a regular at bunco, and this was to be her last game until the baby came.


This site is a participant in the Amazon Services LLC Associates Program, an affiliate advertising program designed to provide a means for sites to earn advertising fees by advertising and linking to amazon.com.

Let's

Connect

!

Useful Bunco Dice Game Links:
Free Bunco Score Sheets

Bunco Recipes

Bunco Dice Game Rules

Bunco Tournaments