Bunco Recipes
This post may contain affiliate links. Read our full disclosure policy. 
Ideas for bunco recipes or bunco menus are easy when you think about it.
Just follow a few rules and you'll be able to plan your bunko menu faster than you can roll the dice!
Here are some tips:
Keep in mind that it is fun to nibble while you are playing bunco.
M & M's are a staple!
Choose foods that can be eaten with your fingers. Preferably foods that aren't too salty or greasy. You'll be constantly rolling dice and want your hands to stay clean. (That is why M&M's are a perfect food for bunco!)
Other great ideas...try almonds, crackers, two-bite brownies, grapes, etc.
At a recent bunco night, our hostess Sandi made a great Buffalo Chicken Dip - of course we had to add it to the website! Find it on our page of easy party appetizer recipes.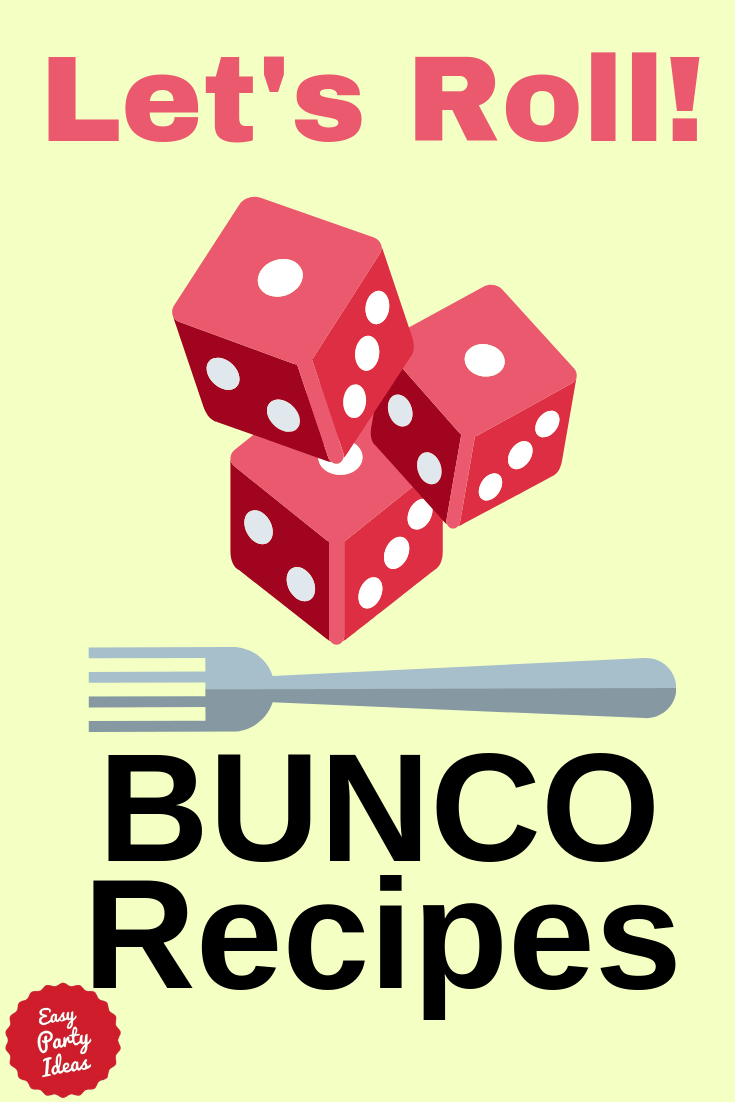 ---
Bunco Night Favorite Foods
I thought it might be helpful to come up with a list of bunco food that I usually see at the different bunco games I attend:

An assortment of crackers
Two or three different dips for crackers
Cookies
M&M's
Brownies
Chips and Dips
Remember, bunco food doesn't need to be fancy, just something fun. If you are having a themed bunco party, select some finger foods or appetizers that will work well with your theme.
---
Bunco Recipes To Try

Each of these recipes makes a great treat that is perfect to serve at bunco.

Sugared Pecans
1 1/2 lb. pecan halves
1 egg white, beaten stiff so it will hold a peak
1 cup brown sugar
1/2 tsp. vanilla
Mix brown sugar and vanilla into egg white. Add pecans and stir until all are coated thoroughly. Spread out on sheet and bake at 275 degrees for 40 minutes, stirring after 20 minutes.
Pineapple Cheese Ball
1 tablespoon grated onion
2 packages cream cheese (8 oz. each)
1 tablespoon Garlic Salt
1 small can crushed pineapple, drained
1/4 cup chopped bell pepper
1 cup chopped pecans
Mix ingredients and form into a ball. Roll in pecans, chopped parsley or chili powder. Best made the day before so the flavors will really mix!

Rolo and Pretzel Treats
Package of Rolo Candies
Bag of shaped pretzels
Place an unwrapped Rolo on top of the pretzel, and then microwave just long enough for the Rolo to get soft. Press another pretzel on top to make a "sandwich."
Instead of pressing another pretzel on top, you can also opt to press an M&M on top of the Rolo instead.
Cool and store in a dry, airtight container until ready to serve.
---
Bunco Birthday Cake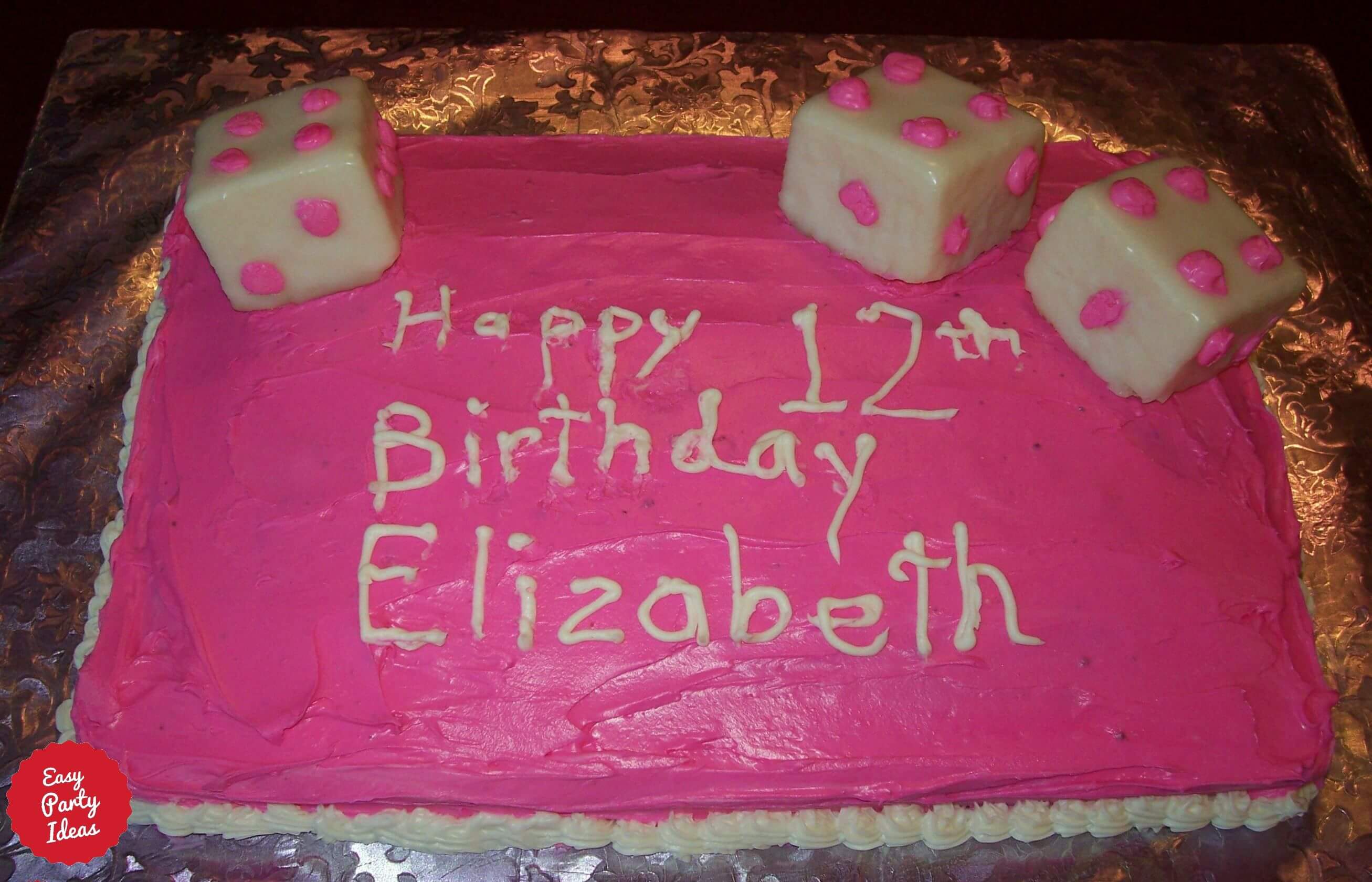 Both of my daughters have had Bunco parties for their birthdays! It is easy to teach their friends to play the game, and it is a unique party idea that is lots of fun!
It is easy to make a bunco birthday cake. Make your favorite cake - round, rectangular or square - any will do! On top add "dice." In our case, the dice were plain petite fours which I picked up from our local bakery, and then added dots of icing to represent the pips on the dice. The petite fours were 2 inches square. If you don't have these, you can make some small cake squares, or ice/decorate small rectangular boxes. You can also use real dice!
---
What are your favorites recipes? Or do you
Have any great bunco ideas to share?
If you've played this fun and easy game - share with our visitors your bunco themes, rules, recipes, prizes and photos!
What Other Visitors Have Said
Click below to see contributions from other visitors to this page...

This site is a participant in the Amazon Services LLC Associates Program, an affiliate advertising program designed to provide a means for sites to earn advertising fees by advertising and linking to amazon.com.

Let's

Connect

!

Great Bunco Links
Easy Party Recipes to use as Bunco Recipes

Bunco Ideas from Visitors

Bunco Groups Spotlight!