Birthday Cupcakes
This post may contain affiliate links. Read our full disclosure policy. 
Birthday cupcakes are fun at a birthday party! Kids love having their very own party cake, and there are times when serving cupcakes is easier than serving a birthday cake.
Here are some cute photos for inspiration!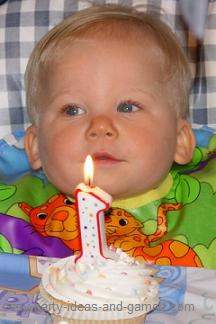 First Birthday Cake -
Give the birthday child their very own party cake for their first birthday. A cupcake is the perfect size!
~Shared by my friend Heather

Cupcake Wrappers -
Have you seen darling cupcake wrappers? They come in several different designs (and colors!) including the popular princess wrappers and train wrappers.
Talk about an easy way to make a birthday treat very festive! This is it!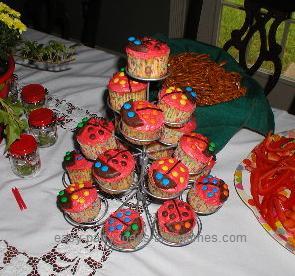 Lady Bug Cupcakes
These cute ladybug cupcakes are perfect for a Lady Bug Party or just to celebrate spring!
For instructions on how to make, visit our Ladybug Cake page.

~Shared by my friend Christy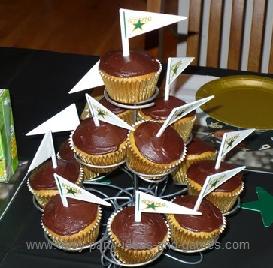 Hockey Cupcake -
Share your favorite team with your friends by using this cute sports themed idea!
Check out our Hockey Cake Page for ideas on a matching hockey cake.
~Shared by my friend Heather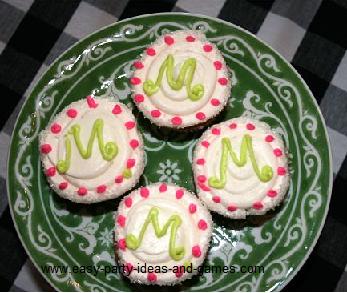 Initial Cupcakes
How about doing a "monogram" such as a cupcake with your inital on it?
~Shared by my friend Leah

For more cupcake designs, visit these party and cake pages:
This site is a participant in the Amazon Services LLC Associates Program, an affiliate advertising program designed to provide a means for sites to earn advertising fees by advertising and linking to amazon.com.

Let's

Connect

!