Elmo Birthday Cake Ideas
This post may contain affiliate links. Read our full disclosure policy. 
An Elmo Birthday Cake is one of the most popular birthday cakes for young children. Elmo is sweet, kind and inquisitive, making him a great creature for your little one to love.
If you want super easy Elmo cakes and cupcakes, we've got them!

Red Elmo lends himself to loads of fun cake designs, and there are several character
cake pans of Elmo
(as well as the rest of the Seseme Street gang) to choose from. Here are some fun Elmo ideas for inspiration!
These cute Elmo cupcakes were shared by my friend Katherine. She made cupcakes, and then added candies to make Elmo! You can buy the eyes already made, or you can make out of tiny marshmallows and chocolate chips! Try an orange peanut M&M or Jordan Almond  for the nose, and a piece of licorice for the mouth. So cute, and everyone will love eating Elmo!

Elmo Birthday Cake Design
Here are some more cute Elmo cakes: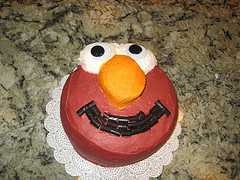 Photo by: http://www.flickr.com/photos/jennycu/ / CC BY 2.0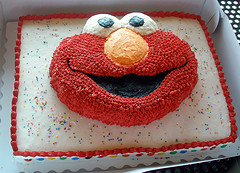 This cake uses a sheet cake with an Elmo cake on top, that was probably made using the cake pan available with the affiliate link shown here:
Photo by: http://www.flickr.com/photos/78428166@N00/ / CC BY 2.0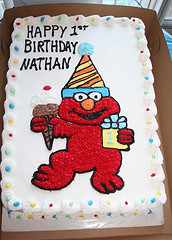 Photo by: http://www.flickr.com/photos/donabelandewen/ / CC BY 2.0

If you can draw with icing, then you can create a drawing.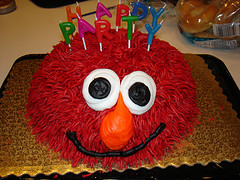 Photo by: http://www.flickr.com/photos/roosterfarm/ / CC BY 2.0

For this cake, use a
Wilton Sports Ball Cake Pan Set
(Affiliate Link) to get the round shape for Elmo's head. You can ice it smooth or make it "hairy" like in the example!
This site is a participant in the Amazon Services LLC Associates Program, an affiliate advertising program designed to provide a means for sites to earn advertising fees by advertising and linking to amazon.com.

Show Off Your Cake!
Show us your great cake and tell us how you did it!
Let's

Connect

!