Fun Wedding Shower Games
This post may contain affiliate links. Read our full disclosure policy. 
Here are some of my favorite Wedding Shower Games for fun bridal shower parties. Some of these can even be adapted to use as bachelorette party games. Enjoy!
The Top Wedding Shower Games
Spice game - Before pour a bit of 5 different spices in 5 different ramekins or small bowls, with one spice per bowl. Ask guests to smell the spices and try to guess what each one is. Have a small prize for the player who has the most correct guesses. Have a tie-breaker spice on hand if you wish. Instead of pouring out the spices, you can also purchase new spice jars and give them to the bride after the game for her kitchen!
Bride Bingo
- Create bingo cards for each player, with the spaces blank and the word BRIDE across the top (instead of bingo).

When it is time to open presents, give the guests a bingo card and a pencil. Ask them to fill the spaces with names of items they think the bride will receive.

As the bride opens presents, they can mark off the items she receives that are listed on their card.

Have a small prize for the person who gets a line in any direction marked off their card.

HINT: This is one of the best wedding shower games when men are at the shower. They love the competiveness of trying to win...and will actually be on the edge of their seats waiting to see what will get opened next!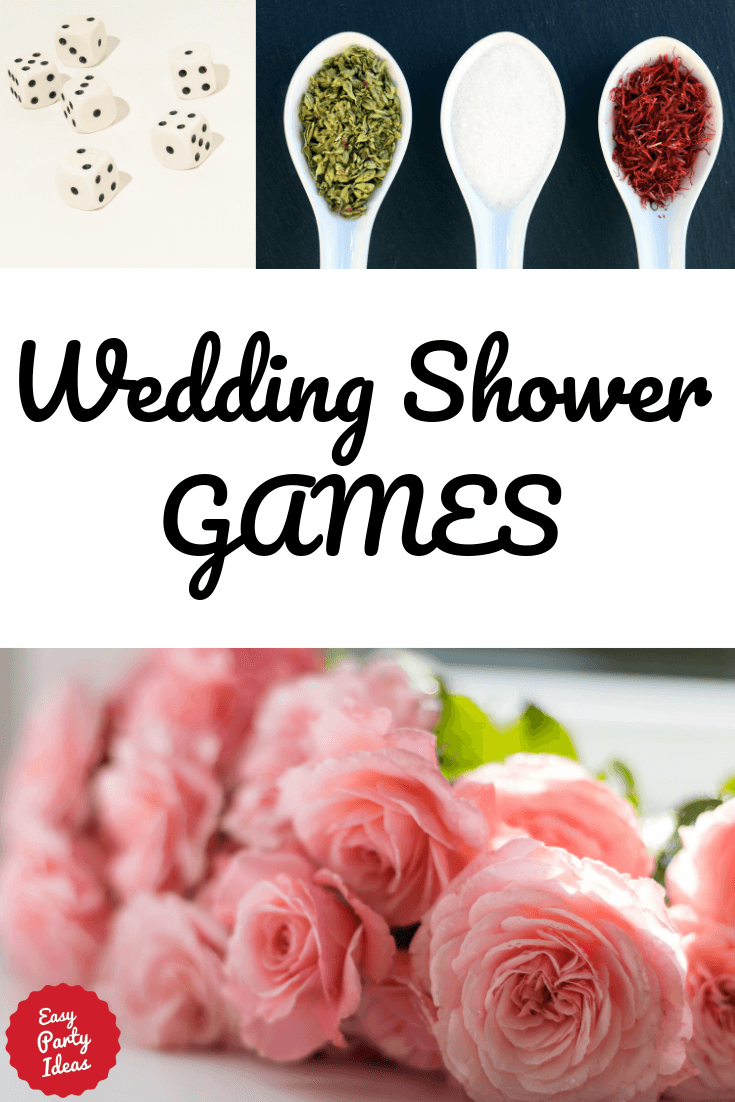 How well do you know the bride? - Have a list of questions about the bride printed. Make it true or false quiz, and award prizes for the guest who "knows the bride" the best!


The Price is Right - Setup a display with five to ten household cleaning items such as cleansers, detergents, etc. Ask players to guess the actual retail price of the collection of items. The person who comes closest the the true prize wins a small prize.


Funny Answers - I recently tried this as one of the wedding shower games at a bridal shower I gave, and it was a big hit! Give each player a piece of a paper and tell them to write down a question that a new bride might ask. It can be anything - how to clean something, cook something, romance advice, how to deal with a situation, etc.! Fold the papers in half, collect them, shuffle, and pass them out again. Tell the players to not inside at the question, but instead to write an answer for their question on the outside. Collect them all and let the bride read the questions and answers out loud. You'll get some funny answers to the questions!


Bridal Gown Game - Divide guests up into teams of three people. Give each team a supply of three rolls of toilet paper. One person on the team will be the model, and the other two will be the fashion designers. Give the teams 5 minutes to design a bridal gown on the model, and then let her model it for the bride!

Wedding Veil Game - Give each guest three sheets of white tissue paper. You can provide other items, such as clothespins, pipe cleaners, whatever you wish. Give the players 5 minutes to design a veil for the bride to wear for her wedding, and then let them each model it! This can also be played in teams.


Guessing Game - adapt the Guessing Game to use as one of your wedding shower games by using names of famous celebrity brides - Princess Diana, Princess Grace, J. Lo, Kate and Meghan, etc.


Match Game - this is a great icebreaker game! If you only have female guests at the shower, you can use pairs of things, like "salt" and "Pepper", "Peanut Butter" and "Jelly", instead of famous couples.


Off-Limits Game - Try this popular party game as one of your wedding shower games. Choose a word and make it off-limits. Perhaps the groom's name? Or the word "wedding"? Something that everyone will be saying at the party. But watch out...if they say it they pay the penalty!


Grandma's House - If you have an antique collector in the group of hostesses, ask to show off some of their collection. Gather a group of items that would have been found in a household 100 years ago - kitchen utensils, button hooks, etc. Lay out the items and see who can guess the most real uses!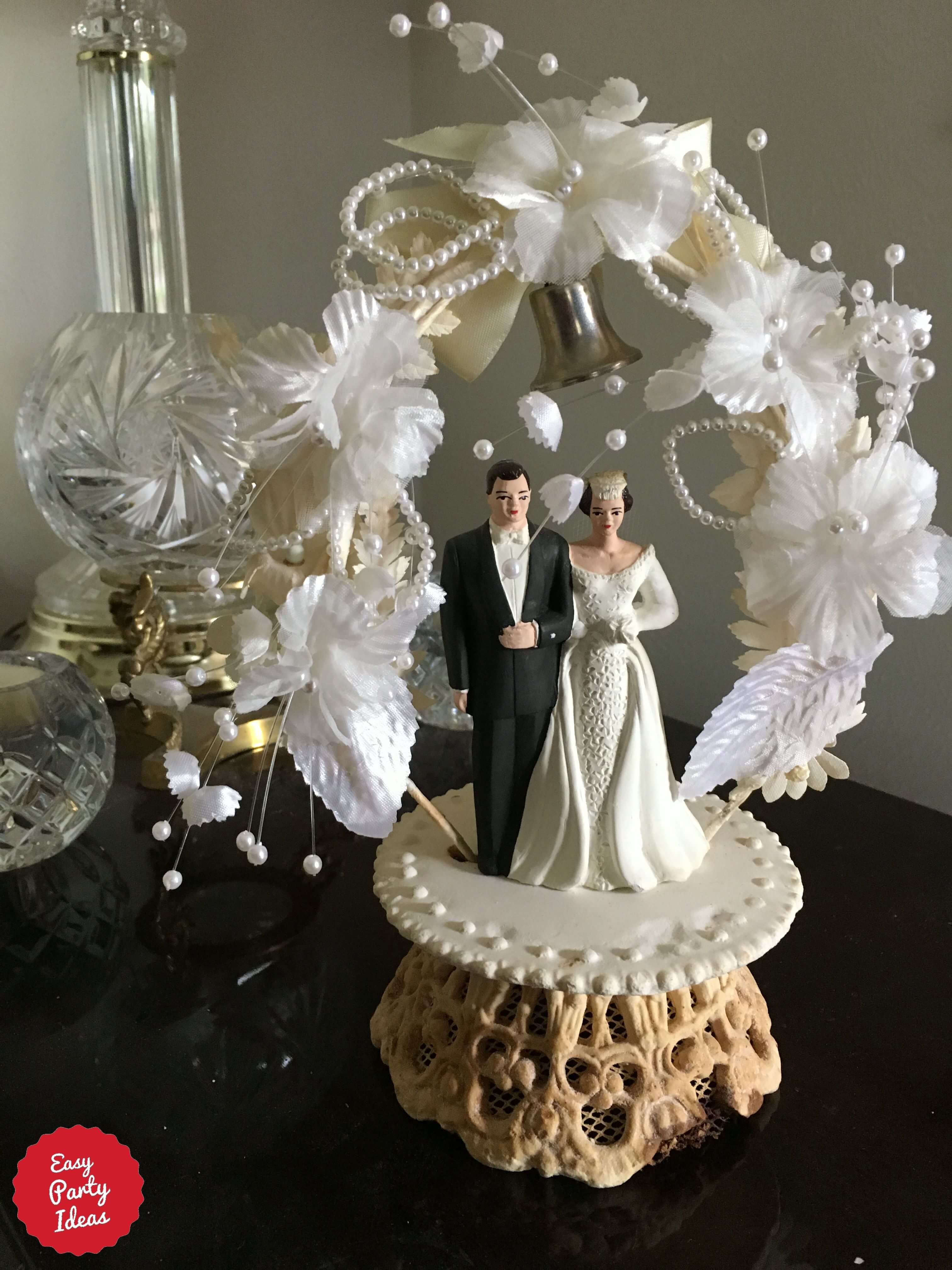 Our family heirloom! Wedding cake topper first used in our family in the 1950's.
Do you have a great easy party idea or game?
Share your great ideas!
This site is a participant in the Amazon Services LLC Associates Program, an affiliate advertising program designed to provide a means for sites to earn advertising fees by advertising and linking to amazon.com.

Let's

Connect

!

Most Visited Shower Pages
Wedding Shower Themes - Make your bridal shower a themed event!
Bachelorette Party Games - These free and easy games for a bachelorette party will create lots of fun memories with lots of laughter!
Printable Wedding Shower Games - My review of popular print and play games.