Wedding Shower Cake
This post may contain affiliate links. Read our full disclosure policy. 
A beautiful wedding shower cake is a must!
When planning a bridal shower, you want everything to be perfect! Here are some fun ideas for you...

I think the idea of a "box" cake is perfect for a wedding shower. After all, the bride will be opening lots and lots of gift boxes!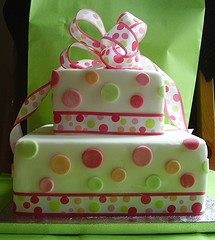 Photo by: http://www.flickr.com/photos/sweetangeldelights/ / CC BY 2.0
Perhaps you are going to serve petite fours at your shower, but need a great centerpiece?
If so, create a wedding cake made of flowers!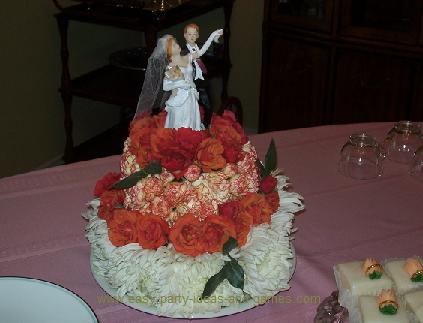 I made this wedding shower cake for a friend's bridal shower. This flower cake made a great centerpiece, and a fun gift for the bride to take home with her after the shower.
Easy to make (always a plus!)...here's how:
You'll need:
Fresh Flowers - I used three bouquets from the grocery store. Purchase as many as you need, depending on the size. I used flowers that the bride was planning to use in her bouquet, but you could also use colors from the wedding or do a cake in all white flowers.
Florist Foam - Use the kind that retains water after you soak the foam. That way the fresh flowers will stay beautiful.
Cake Topper - I found mine at the $1 store! You could use bells, bows, or a collection of flowers on top. Just as wedding cakes have all sorts of things as cake toppers now...you can use a variety of things for your flower cake.
Plate or Base - I purchased a deep plate to set my creation on. I wanted something that could hold any water from the foam, and make the centerpiece easy to carry. To make:
Simply cut out the foam in the layers of the cake (mine is 2 layers).
Soak the foam until it is full of water.
Use toothpicks to secure the layers of foam together and place on your plate or base.
Insert flowers. I cut stems to about 1 1/2" to insert.
I made this centerpiece the night before the bridal shower and placed in my refrigerator until the big day. Good luck!
This site is a participant in the Amazon Services LLC Associates Program, an affiliate advertising program designed to provide a means for sites to earn advertising fees by advertising and linking to amazon.com.

Let's

Connect

!

Perfect Parties Start Here!
Wedding Shower Ideas for Themes