How to Make a
Halloween Spider Web Cake
This post may contain affiliate links. Read our full disclosure policy. 
A popular spider cake design...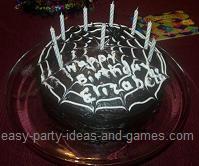 Making this cute spider web cake is as easy as 1-2-3!
Start with a round cake in your favorite flavor (I used chocolate).
Cover with dark icing (again, I used chocolate).
Use white icing to make a spiral from the middle of the top of the cake to the outside of the top of the cake.
Starting in the center of the top of the cake, gently and lightly use a toothpick to make a line from toward the outside edge of the cake. When the toothpick goes thru the white spiral, it will "stretch" the whie icing.
Continue drawing lines across the top of the cake with your toothpick until you achieve the spider web that you want.
Place a plastic spider on the cake and you're done!
Submitted by Elaine.


This site is a participant in the Amazon Services LLC Associates Program, an affiliate advertising program designed to provide a means for sites to earn advertising fees by advertising and linking to amazon.com.

Let's

Connect

!