Monster Cake
As an Amazon Associate I earn from qualifying purchases. Other links on this site may lead to other companies that I'm associated with.
These fun monster cake designs are full of easy decoration ideas for your monsters!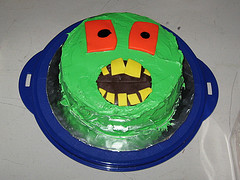 Photo by: http://www.flickr.com/photos/freakapotimus/ / CC BY 2.0

Another Monster Cake Design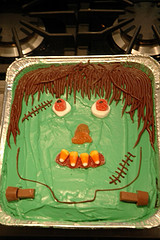 Photo by: http://www.flickr.com/photos/thestarmama/ / CC BY 2.0
These cute and fun cake designs would be perfect as Halloween cakes!
Obviously, the common theme here is green! But this shows you how easy it can be to make a really fun and cute cake. Just take the shape you prefer, round or rectangular (or square for that matter), ice it green, and then make your design.
Love that the second one is a Frankenstein cake too!
Show Off Your Cake!
Show us your great cake and tell us how you did it!
This site is a participant in the Amazon Services LLC Associates Program, an affiliate advertising program designed to provide a means for sites to earn advertising fees by advertising and linking to amazon.com.

Let's

Connect

!

Greatest Halloween Parties