Ladybug Craft
This post may contain affiliate links. Read our full disclosure policy. 
Isn't this ladybug craft cute? It is a ladybug rock.

It is so easy to make, and can be used as a party craft or as a ladybug party favor!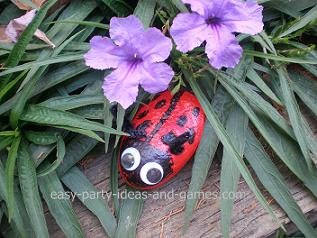 This painted rock craft would be a great remembrance of a Ladybug Party! It is sure to be treasured by all your party guests.  
As a matter of fact, this cute item could be included at any of these parties...
Springtime Party
Summer Party
How to Make this Ladybug Craft
Easy To Make:
Here is how to make this cute party favor craft...
Before the party, paint river rocks red. Do this in advance so they have plenty of time to dry. You also may need more than one coat of paint, so allow plenty of time. The easiest way to paint them is to lay them on newspaper, and paint with red spray paint. Then, when dry,  you can turn them over and paint the other side with the red spray paint.  


At the party, pass out the red rocks and let the kids turn them into ladybugs by decorating them with a black paint pen. Before the party make sure you have tested different brands of pens so you can make sure you get a supply of the type that will give the best results.

Pre-cut pipe cleaners can be glued on for antennae, and glue on some big googly eyes. If using hot glue at a kids party, be sure to let an adult helper handle the glue gun.
A big thanks to my friend Christy for sharing this fun kid birthday party craft idea - a lady bug rock!
Do you have a cute craft to share? Send it and we'll add it to the site to inspire other visitors!

Kid Party Ideas
Do you have a great kid party idea or game?

Share your ideas and photos here, and they will be added to this site to help other moms & dads everywhere!

You can leave comments and questions here too!
This site is a participant in the Amazon Services LLC Associates Program, an affiliate advertising program designed to provide a means for sites to earn advertising fees by advertising and linking to amazon.com.

Let's

Connect

!

More Lady Bug Party Fun!