Farm Cake Ideas
This post may contain affiliate links. Read our full disclosure policy. 
Farm Cake designs are cute - lots of opportunities to incorporate little animals, and the idea of a farm party is really appealing, especially for younger children, especially with life on a farm as the subject of so many storybooks for young children.

Easy Drawn Farm Cake
Cakes that have a farm theme have an opportunity for really creative cake designs.
If you have good drawing skills, you can create a barn cake that is a barnyard scene on a sheet cake, complete with barn and some favorite animals.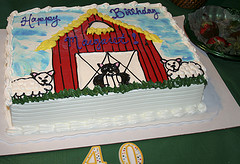 Photo by: http://www.flickr.com/photos/ennuiislife/ / CC BY 2.0

Farm Animal Cake
You can create a cake that pays homage to a specific farm animal, such as this cow cake or horse cake.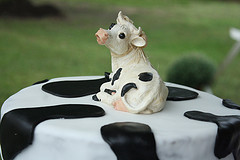 Photo by: http://www.flickr.com/photos/smoorenburg/ / CC BY 2.0

John Deere Tractor Party Cake
Let's don't just limit our farm ideas to little ones. People of all ages love the infamous John Deere products, and with good reason. Celebrate them with a cake scene of a field with a small toy tractor on it.  (Image is an affiliate link taking you to Amazon.com where you can shop for one):

Three Little Pigs Cake
Here is a pig cake showing the three little pigs! This cake was used at my neice's birthday party. This incorporates farm animals into a children's story.

Farm Animal Cupcakes
Have you considered cupcakes?

There are lots of different
farm animal cupcake
(Affiliate Link) options available, and they are super cute.
You can also decorate them with icing to create cute little faces.

Favorite Barnyard Party Ideas
Life on the farm is idyllic, and that idea isn't lost on children! There are so many opportunities to be creative and adapt games to this idea for a party theme.

Freeze dance - where each time you start dancing you pretend you are a different animal
Do an obstacle course of farm activities - pitching hay, brushing animals, etc.
Bring in a petting zoo of farm animals. Kids will love to brush a goat and feed them. Other animals could be a little pig, a pony and rabbits to pet.
For young children, if live farm animals are out of the question, have a petting zoo of stuffed farm animals. They can have lots of fun using their imagination, and can even set up stations to pretend to milk a cow, pretend to gather eggs, etc.

More Farm Party Ideas
This site is a participant in the Amazon Services LLC Associates Program, an affiliate advertising program designed to provide a means for sites to earn advertising fees by advertising and linking to amazon.com.

Show Off Your Cake!
Show us your great cake and tell us how you did it!
Let's

Connect

!

Related Pages You'll Love