The First Birthday Cake
This post may contain affiliate links. Read our full disclosure policy. 
Ah, the first birthday cake!!
Here are some cute ideas for your first birthday celebration cake...(and cupcakes!)
You can plan a theme, or let the first birthday be the theme itself!
A great example of using colors to match your partyware!
Submitted by my friend Heather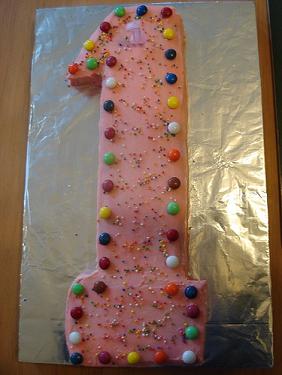 Photo credit: http://www.flickr.com/photos/bfhoyt/ / CC BY 2.0
A shaped cake pan was used to make this #1 cake.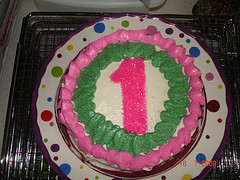 Photo by: http://www.flickr.com/photos/montage_man/ / CC BY 2.0

More Examples of Cute first birthday cakes: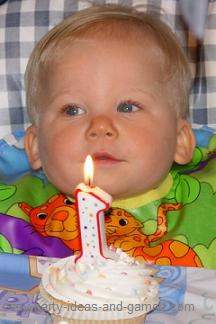 Isn't this cute? Lots of families have a cupcake or small cake just for the child who is turning one. They can feed themselves these little cakes and make a fun mess doing it! Sometimes making the mess is more fun than eating the cake!
Submitted by my friend Heather
Have some toddlers that will be attending the party? The birthday child won't be ready to participate, but the older kids will welcome something to do.
Find some Games for Young Children to go with your first birthday cake!

Show Off Your Cake!
Show us your great cake and tell us how you did it!
This site is a participant in the Amazon Services LLC Associates Program, an affiliate advertising program designed to provide a means for sites to earn advertising fees by advertising and linking to amazon.com.

Let's

Connect

!