A Wet and Wild Summer Birthday Party
This post may contain affiliate links. Read our full disclosure policy.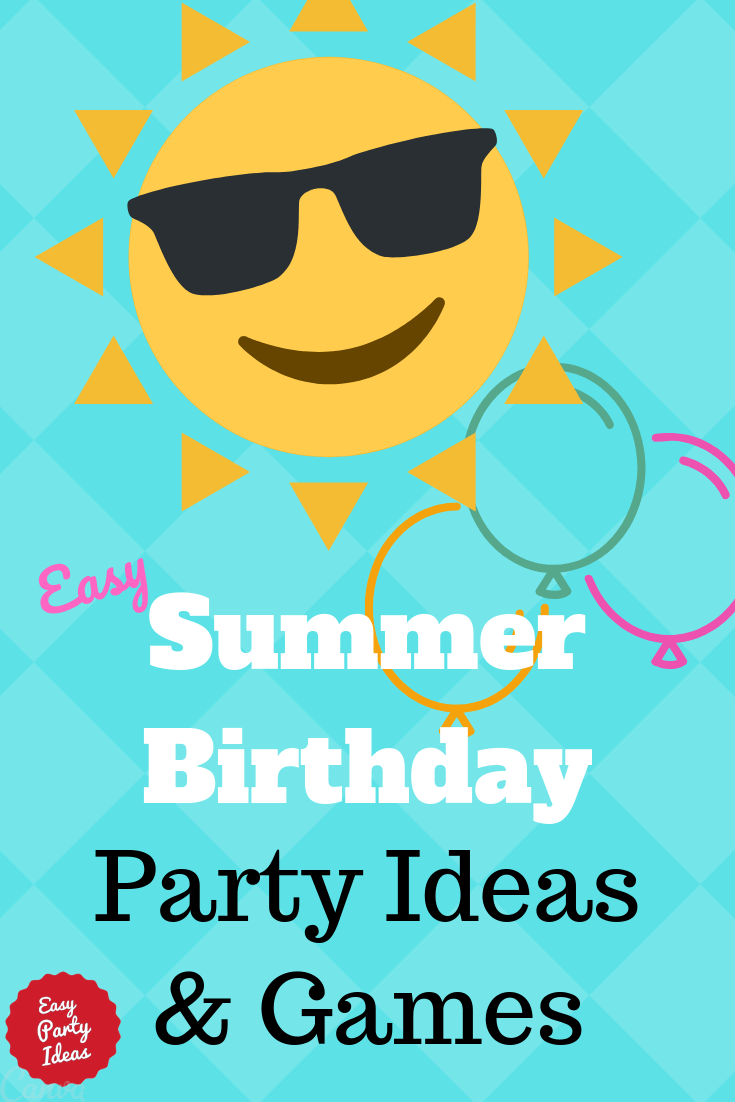 We attended a really fun summer birthday party for a kids party. It was really easy to do, and a perfect way to beat the heat!
Everyone was told to wear their swimsuits and bring a towel.
The family had rented a giant inflatable slip n slide for their yard. What was really neat about this is that the kids could get a running start, slide down the slip n slide (which was about waist high for them) and water would rain down on them the entire time from overhead sprinklers attached to the inflatable.
At the far end of the inflatable, it was a giant bouncy house full of water.
There was a table of kids party food - chips and dips, that sort of thing, that was perfect for everyone to munch on between slides.
You could even throw in some water games in case the kids ever get tired of sliding (not likely!).
If you wanted to carry out a theme with decorations, a combination of water, summer and sun lends itself to colorful luau party decorations.

Shop for Luau Party Supplies
Table covers in tropical colors: hot pink, lime green, yellow, turquoise, and orange.
Seashells
Sand Pails and beach toys Blow up beach balls Fish Nets Pink Flamingos Parrot Stuff Palm Trees (real, inflatable, or made from butcher paper) Flowers (Hibiscus, orchids, palms) Fresh Fruit (pineapples, coconuts, bananas) Cute Drink Umbrellas Tiki Torches from Tikimaster.com Paper Lanterns Luau Invitations
Luau Party Games Pack from PrintGamesNow.com
Children's Luau themed party supplies and favors from Birthday in a Box.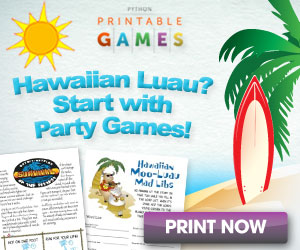 Favorite Water Games
These are some time-tested, kid-approved water games for a summer birthday party:

Leaking Cup Water Relay Race - Divide your players into two teams. For each team you'll need a bucket of water, a cup with holes in it, an empty bucket and an obstacle course. The first player on each team fills his cup with water, places the leaking cup over his head and runs around the obstacle course. When the player gets back to the starting line, he pours whatever water is left in his cup into the empty bucket and hands the empty cup to the next player. The team that fills their empty bucket to a pre-determined point first wins.
Dribble, Dribble, Drench – This game is played just like Duck, Duck, Goose. Have players sit on the ground in a circle and one player is "It". "It" goes around the outside of the circle, patting each child on the head and saying "dribble" for each player. "It" will say "dribble" over and over until unexpectantly saying "drench!" and pouring the water over that person's head. The drenched player must then hop up and run around the circle while playing a game of tag with "It"!
Fizzy Necklace Targets – Before the party you'll need to make a fizzy necklace for each player. To make: Create a small hole through an Alka-Seltzer tablet with a needle and put it on a string. Give each player a water gun and fizzy necklace. Have players put on their necklaces and try to dissolve other player's necklaces by spraying them with water.
Safety First

Because water, slipping and sliding and all things that go with it can be hazardous, make sure any inflatable company that you use carries good insurance. It is always better to be safe than sorry!
This site is a participant in the Amazon Services LLC Associates Program, an affiliate advertising program designed to provide a means for sites to earn advertising fees by advertising and linking to amazon.com.

Let's

Connect

!

More Summer Birthday Party Fun