Ipod Cake
This post may contain affiliate links. Read our full disclosure policy. 
An iPod cake is a great way to show love of music and is part of our music cake birthday category.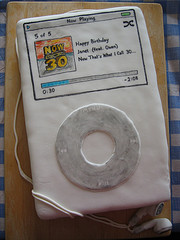 Photo by: http://www.flickr.com/photos/janetmck/ / CC BY 2.0
Other cute "i" product cake ideas would be an iphone cake.
This is a great cake idea for someone who loves to listen to music, especially at an adult party or teen party.
This just uses a sheet cake that has been decorated. Use the screen as a place to write your happy birthday message if this is a birthday cake design.You could also create a smaller iPod out of fondant and place it on top of a cake, or buy a toy iPod to go on top of the cake.

Enjoy this cute idea!

Fondant Recipe for an iPod Cake

Making this cake is easy with a good fondant recipe. Try out the recipe in advance to make sure it works well for you.
What you'll need to make fondant:
1 tablespoon + 2 teaspoons unflavored gelatin
1/4 cup cold water
1/2 cup Glucose  (can't find? Try light/clear corn syrup)
2 tablespoons solid vegetable shortening
1 tablespoon Glycerin
Flavoring to taste (For example, Vanilla or Almond)
Any icing color
7 1/2 cups sifted confectioners sugar
Mixing bowls, measuring cups/spoons, double boiler, wooden spoon. Also, if you have it, mixer with dough attachment and a place to knead and roll out the dough.
 
How to make fondant:
Combine gelatin and cold water and then let it stand a few minutes until it  thickens.
Place the gelatin and water mixture in the top of double boiler. Heat and stir until dissolved, then add glucose and mix. Stir in vegetable shortening. Just before it is completely melted remove mixture from heat.
Add glycerin, plus any flavoring and any coloring. Cool until lukewarm.
Pour confectioners' sugar into a large bowl and make a well in the center. Pour the gelatin mixture into the well, and stir with the spoon until no longer sticky. Knead by hand or with a mixer. Knead until smooth and no longer sticky.
Store up to a week in an airtight container at room temperature (ok to refrigerate if storing longer.) When ready to use, knead it again to make it soft. Refrigerated dough should return to room temperature before kneading.
Roll out and use! If fondant is too soft, you can add sugar. If fondant is too dry, add more vegetable shortening.


Show Off Your Cake!
Show us your great cake and tell us how you did it!
This site is a participant in the Amazon Services LLC Associates Program, an affiliate advertising program designed to provide a means for sites to earn advertising fees by advertising and linking to amazon.com.

Let's

Connect

!

You might also like...